Christmas was always a special time for me as a kid!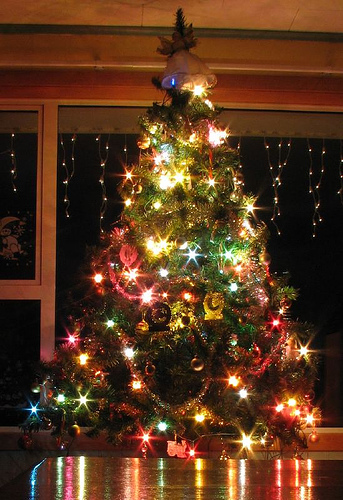 It was my grandmother use to make it a very special time of the year.  She went all out, she had a large Santa that stood in a sleigh decoration with individual reindeer that she would put on the top of her organ.  Beneath the Santa decoration, she had a sheet of white foamy material that looked like snow.
The Christmas tree was put up with silver garland, special fancy homemade ornaments, silver tinsel hanging perfectly straight,  and about 3 strings of lights (my grandfather hated to get them working every year).  She also put decoration throughout the house, it was magical when I was a small boy.  On one special gift for each person that she bought a gift for, she would wrap it so that it would create a wintry or Christmas scene (this was a lot of work).
Most years, my grandfather would go and buy a real fir-tree when I was younger, so the room that the tree was in would have a faint pine tree smell.  My grandmother use to play Christmas songs (O Christmas Tree, Here comes Santa Clause, Silent Night, Rudolph, Frosty the snowman, etc) on her organ and we would sing some of the songs together.  I was a great time!  So, now that I have kids, this is a hard act to follow, but I wanted to do something.
So I decided to start a new family tradition.