Yesterday, the DOW stock market measure dipped 187 points, so what did I do?
I did nothing!
The market responded to something going on over in the Chinese government as they try to control inflation in China.  I've seen similar announcement like this before, the market drops like a bowling ball dropped in a toilet, then during the following week,  it recovers its losses.  In some way it's like a broken record…
What I should have done was buy more quality stock or other investments while the market was low, but I froze.  I actually have money sitting. waiting for such a dip, but it's hard to take that leap of faith, and I hesitated.
The market also took new about Walmart sales dropping slightly for same store sales.  But like last year and the year before that, it'll be the day after Thanksgiving and the amount of shoppers out in the market on that day, that will determine if holiday sales are boom or bust.
I'll admit, part of the reasons I hesitated was because I didn't have any particular stocks that I wanted to buy.  The reason I didn't have any stock that I was looking at, was not because of any stocks per se, but instead because I hadn't really been following the market as closely as I usually do.
If I had done my homework, and had a stock lined up…  I might have jumped in.  Even with a stock lined up though, it's still a hard decision when the forces that be are knocking the market down like a UFC fighter (like the old version of Chuck Liddell) throwing a knockout punch.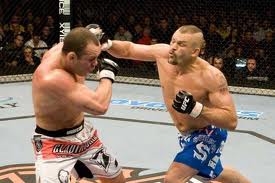 Most of us follow our hearts and stay put in such market downturns, or even worse sell shares…
Was anyone brave enough to jump in yesterday?
-MR