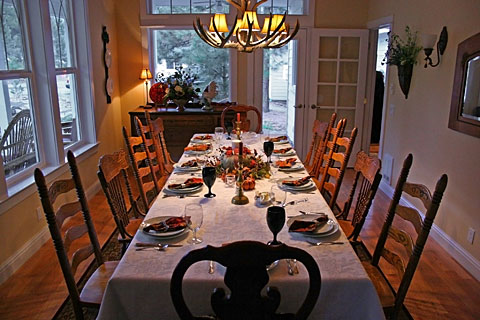 Every since I've been married, our Thanksgiving Dinner would consist of driving to both of our parent's houses and stuffing ourselves twice.  While Thanksgiving dinner was always good when I was single, as a married couple, we always felt bad about leaving so soon to go to the my wife's parents (that was usually the 2nd stop).
Another thing that really made the experience less enjoyable was the fact that we ate twice as much as we wanted to eat.  But to make both sets of our parents happy, we did so anyway.
My sister followed our footsteps, which I thought was crazy since she lived 2 hours away and her husband's parents lived at least 4 hours away for my parent's house!  But my sister and my brother-in-law continued to do this for the past few years, until…
Along comes Baby:
My sister's first baby was born in February, and that has made all the difference!
Now for the baby's sake, my sister doesn't want to drive 2 hours and then later 4 more hours in one day, so after some discussion, the decision has been made to have Thanksgiving Dinner a week earlier at my parent's house!
We had Thanksgiving dinner at my parent's house this past weekend, and it was great!  We all enjoyed the great meal, and since we weren't rushed trying to hit two houses, we didn't leave my parent's house until 9:00pm.
Games were played, discussions were enjoyed and the baby had plenty of attention!  Nobody felt guilty since we spent the entire day there!  And instead of having 2 big meal that would later give us indigestion, we enjoy just 1 meal and felt fine after we went home!
If you find yourself in a similar situation, have you considered splitting Thanksgiving dinner up?
We did, and it was great!  This is another classic Lemons to Lemonade example.
Thanksgiving is once again an enjoyable  holiday for us!!!
-MR
Did you like this Article?  Then subscribe to my RSS feed so you can check out new articles when they come available.