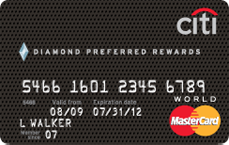 My best credit card is the Citi Diamond Preferred credit card offer by Citi.
As you can tell by the picture above of the card, it's not all black.  But here is something you don't know…  Some of the  non-black colors wear off the card shortly after you get it!  It wasn't intentional on my part, it literally was just rubbed off from use.
So while it wasn't planned, the card looks like a Black Card.  I always get a chuckle when a retailer or restaurant thinks that it might be something more than it is.  While this is a good card and on the higher end, it does have spending limits, unlike the American Express and Visa Black Cards.  More than once, I had to explain that it's not like one of those very high-end cards!  I do get plenty of compliments on how cool it looks.
So, other than the fact that the card becomes mostly black shortly after using it a few times (including the text that identifies the type of card), why else do I value this card?
Let me say this upfront, I didn't really give a rat's arse about the color of the card!  I'm got in it for the excellent rewards program that they offered (one of the best).
List of cool benefits of the Citi Diamond Preferred Card:
5 ThankYou® Points for every $1 spent on purchases at supermarkets, drugstores and gas stations for 12 months; 1 point thereafter

1 point for every dollar spent on all other purchases.2 No matter what you are spending on, you're earning ThankYou® Points

Rewards start at just 1,000 points2 . You'll be rewarding yourself in no time

Annual Fee: No Annual Fee (for the most part)

Purchase APR: 0% Intro APR on purchases for 12 months; after that the variable APR will be 12.99%-20.99%, based on your creditworthiness

Diamond Perks: Access to Private Pass, which gives you the opportunity to enjoy a wide variety of exciting events and unique experiences
So has the card benefited me?  Yes, I've already earned and spent over $1000 dollars via the rewards program!  It's still one of the best cards out there in my opinion!  I've never used the Diamond Perks, but that doesn't mean that it doesn't have value!
What is your best Credit Card?
Update:  They have renamed the card to just plain old "Citi Preferred", and now the new card is a dark blue color!  The rest is pretty much the same though.
-MR