Christmas Tradition #2
Last year I mention my favorite Christmas Tradition, which is getting the Christmas Tree from a tree farm!
This year I'm going to mention my other Christmas Tradition, which is taking the family out to eat as a fancier restaurant.
That said, we have mostly gone to a "Fighter Group type" of restaurant!  If you're not familiar with such a place, it's basically an old fashion airforce restaurant that is close in proximity to a functional airport.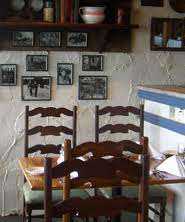 For me personally, I enjoy the simple, but tasty beer cheese soup!  And while the place has decent enough food, we are really going for the atmosphere of the restaurant!
The kids are constantly amazed seeing the huge jets taking off and come in for a landing from the restaurant building!
My wife (who initially wasn't crazy about the place) now looks forwards to event!  I wish I could remember what she typically get, I think it's come kind of chicken combo!
So What Makes It So Special?
First as you pull into the parking lot, you'll see old army jeeps and trucks in the yard.  A few cannons and a bomb that didn't detonate!
Next you'll notice that the door is held shut by sandbags and pulleys.
As you enter the dinning area, you'll notice the Bing Crosby or Frank Sinatra Christmas songs!
They also have a huge fireplace with a huge mantle…
It's just a  fun type all the way aronnd!