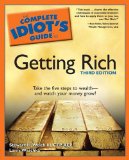 The real book title is "The Complete Idiot's Guide to Getting Rich", and it was the 2nd book that I read on finances.
Don't let the full title, fool you… its a great book, written by Larry Waschka (who was a registered investment advisor and once owner of Waschka Capital Investments, a fee-only investment advisory firm).
Unfortunately, the author died by drowning in Mexico while on vacation.  However, the book continues to be a great work and is on its 3rd edition.  It's new co-author is Stewart H. Welch III, and while the core from Larry is the heart of the book, Stewart has kept it modern and has done an overall great job!
Much like Evan at "My Journey to Millions", Larry also worked with very rich people and over time he was able to learn much about them.  This was one of the reason Larry wrote the book, to share what he had learned!
This book introduced me to some of the advance investing strategies that I still use today!
Unlike most financial books, this book actually lays out the formula step by step on how to get rich, not to mention the TSG (Target Saving Goal) calculation!  Most financial books are hype, inspirational, but mostly hype…, but this book's author actually took it a step beyond by designing a wealth building strategy for his readers!
While this book might not get the credit and acknowledgment that it deserves because of its orange cover and silly title, it was instrumental in setting me on my financial path!
Tomorrow, I'll dig a bit deeper into the book contents and explain what influenced me that most!
If you get a chance, check it out at the library or purchase it (it's one of the few financial books that I have purchased in my life…), I think you'll find value in reading it.
-MR
Did you like this Article?  Then subscribe to my RSS feed so you can check out new articles when they become available.