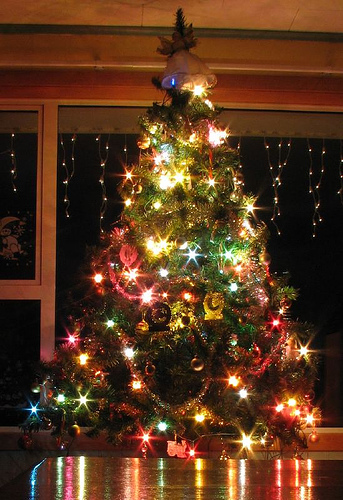 Yesterday, we did a two for oner!   We did both of our biggest Christmas Traditions on the same day!
We cut down our Christmas Tree, and we did our big pre-Christmas dinner!
We normally don't do this because both events are big enough that they should be separate, but we are pressed for time this year.
This time, I decided to do something different with the decision-making process around both traditions!  Instead of picking which tree for our house and where to go for Christmas Dinner, I decided to open it up to the kids (my wife and I both have made the decisions in the past).  So I let my son pick out the tree this year and my daughter decided where to go for Christmas dinner!
While the tree my son choose wasn't one that I would have picked, it still was decent enough, and was a fine choice!   He had the privilege of cutting it down (lucky him)!  However, he chose to cut it down about 6 inches too high, so when we got home, the tree will be the smallest one we ever had (lol).  Hopefully, he nor my daughter will notice!
We lucked out with my daughter, she whittled down her choice for the Christmas dinner to the "Fighter Group" restaurant and "Red Lobster".  In the end she decided to stick with tradition and go with the "Fighter Group" restaurant.
So with both Christmas Traditions, I let the kids make the decision as to the direction of the traditions!  I think this will be better for their involvement in the process, and help them feel more important!
If you have kids, do you try to promote leadership and decision-making qualities?
-MR
Did you like this Article?  Then subscribe to my RSS feed so you can check out new articles when they become available.  You will help this blog grow by doing so!  Thanks!