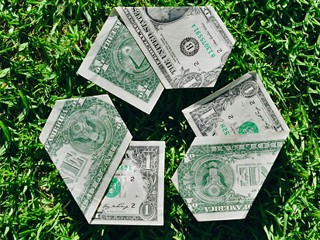 My son started recycling Aluminum Cans as part of a school fundraiser so his 4th grade class could go on a special annual road trip to our capital.
Starting the Recycling Process
After the school fundraiser was over, my son realize that there was money to be had. and it helped the planet.  So showing off his budding entrepreneurial skills, he wanted to continue the recycling aluminum can activity.
So we collected cans for a few months, both my son and I crushed the cans, but I did the majority of the crushing.  My son didn't get to experience the bagging of the cans, the transportation of the cans to the recycling center, the weighing of the cans, and finally the money received for delivering the crushed cans.  It was an interesting experience going to the recycling center, and not what I imagined it would look like.
Expanding the Experience
While driving about doing Christmas activities, my wife unintentionally discovered a recycling center in out local city near the edge of town.  Knowing that my son didn't get to experience much of the recycling experience, she suggested next that I go there and take him along too.
This was a fabulous idea!  My only concern would be that this company is a middleman company that's going to pay us a lower rate, but even if my fear is true, that could be a great learning opportunity for my son!  I could explain to my son how this middleman company just collects the cans paying the people a lower payout than the payout that we received when I took them to the larger recycler up where I work at.
Conclusion
I'm excited about the local recycling center that my wife found!  This will broaden my son's experience with the entire aluminum can recycling process!  Once we get the next bag full ready, I think I will let him do the talking with the people at the new center.  I will just be backup in case something isn't clear.
I'm look forward to seeing my son expand his business experience with this small venture!
-MR
Did you like this Article?  Then please subscribe to my RSS feed so you can check out new articles when they become available.  You will help this blog grow by doing so!  Thanks!