This past week, two pop-ups happened while I was browsing on my laptop.  Since last year I got some nasty malware, I decided to write about ways we can avoid getting malware in the first place!
Avoiding Malware Tip #1:
Don't open up cute little attachments that people send you in email.
Many times these cute little applications work, but they are really trojan horses in that fact that they show and run something cute, but at the same time they install a real trojan virus (that's why they call it a trojan or trojan horse) on your computer allowing hackers to access your system without you knowing it.
Avoiding Malware Tip #2:
Have you ever visited a web site, then go to leave and a pop up occurs stating that you have a virus and to click here to remedy the problem, or a pop up that says anything…  For example, "Are you sure you want to navigate from this page" or any pop up really…?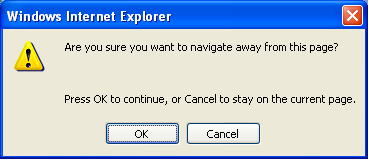 The following is what I do when the above happens:
Press "Ctrl-Alt-Delete', select the Application (Internet Explorer or Firefox in this case)
Click the "End Task" button at bottom of the pop-up window.
When you go back into your browser, select go to home page instead of restoring the last session.
My Top 7 Favorite Reads of the Week:
Watson Inc: Do Rich Parents Matter Round Up? – Shawn discover and post about an intriguing study about the mental abilities in young kids and different socioeconomic environments.  I think poorer kids get less attention and therefore less exposure to mental developmental games and tools.
MoneySmartLife: Best Tax Breaks 2011 – This guest post by Miranda reminds us of the tax changes that go in effect this year (2011).  I'm sad to see the child tax credit is being reduced to $500 this year, down from $1,000.
First Gen American: Bad Tenant Incidents and Lessons Learned – Horror stories about being a landlord!  These stories are very entertaining and scary at the same time!
Financial Samurai: Most People Make A Lot More Money Than You Think – At one time, I wouldn't entertain this article by Sam, but now I'm a convert.  Check it out and see if he convinces you too!
Everyday Tips and Thoughts: More Great Financial Advice From the Media "Don't Rush To Pay Off Your Mortgage" – This post all comes down to the old saying "Don't believe everything that you read".  The article also reflects that just because an article gets published in a bigger, more well know website, doesn't mean that quality.
Consumerism Commentary: Jeremy Siegel's Economic Outlook for 2011 – Flexo pointed out this great article that has a video of Professor Siegel voicing why he thinks that 2011 will be a good year for the stock market.  I admit, the video changed my views on the stock market and I bought some more dividend stocks.
Budgeting in the Fun Stuff: Our Stock Portfolio – Crystal has a great dividend portfolio, but I read between the lines and realize what a great spousal relationship Crystal has with her husband!  It even inspired me to write an article that include her relationship in it.
My Favorite Post from Money Reasons:
My favorite post of the week was Sometimes Free Is Better.  I especially like this one because often we overlook great opportunities and free stuff just because were are let to believe that there is no free lunch.  But there is and it's good!
-MR
Did you like this Article?  Then please subscribe to my RSS feed so you can check out new articles when they become available.  You will help this blog grow by doing so.  Thanks!