Well, it took a long time, but my 401K decline in my portfolio value has finally broken even from my 401K balance highs back in 2008.  Today is officially Valentine's Day as I write this, so it'll be easy for me to remember!  I guess my account is telling me "Happy Valentine's Day" (lol).
Here is the chart that show the Crossover point that I just crossed: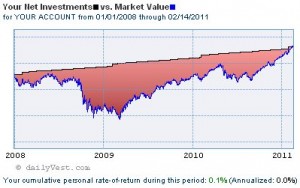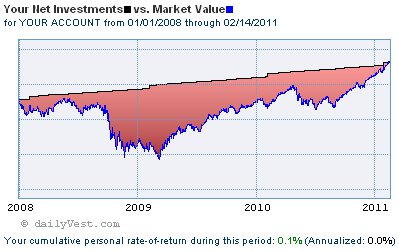 It seemed like it took forever!
During the downturn spiral, I increase my contribution amount so that I could take advantage of the apparent dollar cost average that would happen during the dip.   I know this technique would prove to be valuable, but not as much as if I were a beginning investor…
A co-worker had just started investing in 2005, and he too increased his contribution amount to take advantage of the potential of the dollar cost averaging that was bound to happen.  Since 2008, the dollar amount of his portfolio has practically doubled!  He's so lucky!
In my head (and the confidence instilled by Warren Buffett's purchases) even though I went ahead with the increase in my contributions amount, I was still worried!  After all, this could have been another Great Depression instead of an intense but in contrast, short decline.  Luckily, it wasn't as bad as it could have been (hopefully).
Next Steps
Now since I fully recovered, I'm tempted to rebalance my account in order to take out the presently high level of risk currently in the  account.  So I'll move more money out of stocks into bond funds and money market funds.
Today's a good day for me!  Now only if I were doing as well with my online discount stock broker and in particular my Roth IRA college saving account!
How's your retirement accounts doing, are you back to the positive side yet?
-MR
Did you like this Article?  Then please subscribe to my RSS feed so you can check out new articles when they become available.  You will help this blog grow by doing so.  Thanks!