Our Trip To Disney World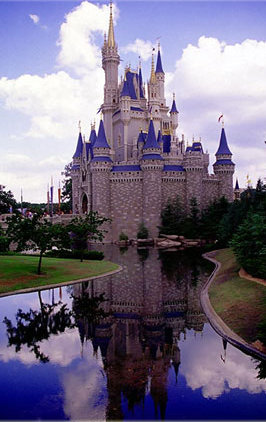 During the first week of November, my family flew down for a vacation at Disney World in Florida.  Unfortunately, after the first day down there, it turns out that I had the flu.  This dampened my Disney Experience to the utmost degree, but since it was expensive and my kids were still having a ball, I dealt with it.   I guess that's part of being a dad.
So now, well over a year later, I'm finally getting around to sharing our Disney World Adventure!
Departure to Disney World
During the period when we booked the trip (at a huge discount, I might add), we signed up for the free option called "Disney's Magic Express Transportation".  This was our first pleasant surprise!  Since we booked early enough, they sent special paper work so that once we dropped of our luggage, it would automatically be in our room when we arrived.  This worked without a hitch.
The trip down was my daughter's first experience in an airplane, so she was mesmerized looking out the window a good chunk of the trip.
Once we arrived, the lines were incredibly long, especially considering that we went down offseason and while school had started again. The area they had for lines was only about half full, so I couldn't imagine what it would have looked like during a regular season day.  Luckily, the line moved quickly.
Arrival at Disney World Resorts
First we check in at the "moderate value" Disney Resorts called "Disney's Port Orleans Resort – Riverside".  It had a great view and very cozy, but the rooms were about the size of a typical old holiday Inn.  The pool, eating area and canal/river was beautiful and very clean!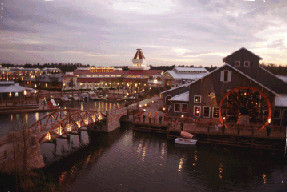 We went with the Disney meal plan, so after we arrived, we went to Downtown Disney (since our ticket to the amusement park wasn't open until the next day).  There we met up with some friends at Wolfgang Puck's Cafe, where I had a delicious cut of steak.
Next we found a Lego store for my son, and he loved it!  There were cool Lego sculptures everywhere, including a Loch Ness Monster in the lake.  Needless to say, my 6-year-old daughter wasn't so keen on Nessie, and kept far and clear from it!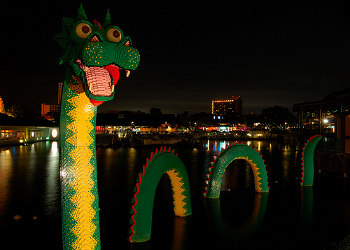 All in all it was a great experience for the first day, especially since we took a quick, free boat ride from our resort area to Downtown Disney.  Shoot, the boat ride was almost like an amusement ride in itself.
The Disney World Amusement Parks
First for the map: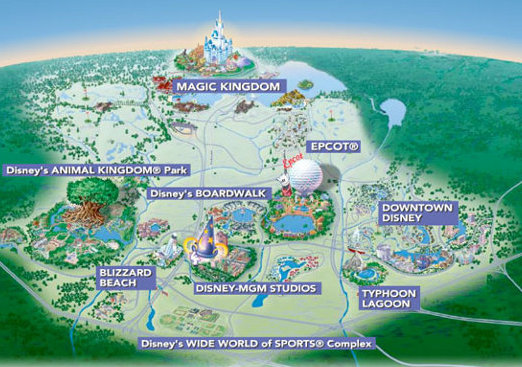 We went to Magic Kingdom, Animal Kingdom, Epcot and Disney MGM Studios. Each park was very unique, and all of the parks were clean and the staff very helpful and courteous!
Here is a quick summary of each of the Disney World core parks
Magic Kingdom: It's showing it's age, but there are still some favorite rids in this park.  The Peter Pan ride is under-rated but still very cool.  Space Mountain was sadly closed for repairs during the time we were down.  My wife liked the "It's a small world" ride.  It broke down on us…  Overall, great but not that much better than any other amusement park.  Of course, this was my kid's favorite ride.
Animal Kingdom: Very cool, but not to different from a local Safari exhibit from where I live, so while it was impressive and the guide (it was a ride in a bus ride) was entertaining, overall it was just fair.  Perhaps I'm spoiled though, if you've never been on a ride like this it would be great!
Epcot: I enjoy this!  it was cool seeing information about all the different parts of the work.  It even had some pretty cool rides.  I wanted to go on Mission: Space, but I was too sick by that time.  There is this very excellent ride in the Mexico portion that I thought was awesome.
Hollywood Studios: This park was called MGM Studios in another life, but now it's been renamed "Hollywood Studios".  We underestimated this park and thought it would be boring, but instead it was our favorite of the bunch.  Unfortunately, we only spent one day there, and it was a day that they didn't perform the incredible show called "Fantasmic".  Still practically all the other shows and rides there were pretty incredible!
All in all, it was an incredible experience, and if you're planning a trip soon, I'd advise that you do the following tips:
1.)  Take advantage of the FastPASS tickets!  Make sure you choose which one you pick wisely, since you can only get 1 ticket per each fastpass at a time.  Get your fastPASS ticket early in the day because the ride time gets bumped later and can even sell out.  These are worth the scramble to get them in the morning, so pick your favorites first!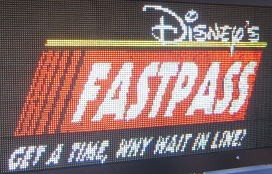 2.)  Hit Hollywood Studio on the day that Fantasmic is playing, you won't regret it like I did!!!
3.)  If you went down the first week of November, you can go to Mickey's Not-So-Scary Halloween Party and then later in the week Mickey's Very Merry Christmas Party.  it cost extra, but it might be worth it.
4.)  Schedule to have a Dinner with the Character at the Crystal Dinning hall, that way you can get into the park early.  That way a quick dad and son can run to get FastPass tickets before the rest of the people do (bonus)!  But you do need to run back because they won't let the party into the hall until all the member are there!
5.)  Do go have a dinner at Cinderella's castle!  The castle is cool in itself, but the show is spectacular and interactive!  I was surprised that I enjoyed it.
6.)  The normal shows (like Beauty and the Beast) are great too.  All the shows by Disney were enjoyable!
7.)  If you expect to go to different parks on the same day, get the Park Hopper Pass, so you can go from one park to another.  We didn't do this because it would have been another $200 that we would have had to pay, but it might be worth it to you…
8.)  The dining plan was pretty much a wash for us.  Too many dessert allocations for us, we're not dessert people.
Disney World Vacation Conclusion
Even with the discounts, it still cost us about $4,500 to $5,000!  We went for the 7 days and 8 nights package and staye at a great Disney World Resort.  It's worth it, but pricey.
So there you have it, my experience at Disney World!  If you have any questions, please feel free to email me and I'll do my best to remember (or ask my wife).  In my defense, I was pretty sick and somethings I didn't get to experience to the fullest!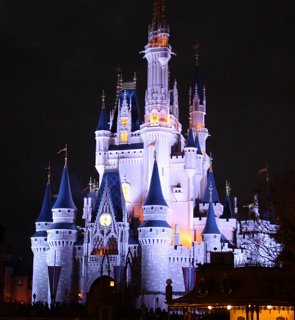 Are you thinking of taking the plunge and going down to Disney World (in Florida) or Disneyland (in California)?  If you have gone to Disney, was it worth it and would you go again?
-MR
Did you like this Article?  Then please subscribe to my RSS feed so you can check out new articles when they become available.  You will help this blog grow by doing so.  Thanks!