I recently posted an article called "Why We Didn't Buy The Most House We Could Afford " in which I stated that the real reason we went this route was so that we wouldn't be house rich and cash poor.  As an example, I stated that one of the primary reasons that we went this route was so that my wife could be a SAHM (Stay at Home Mom).  This is something that she wanted to do, and luckily, we were in a position to do it.
Interestingly, most of the comments were steered toward the example (my wife being a SAHM) instead of the real reason "being house rich and cash poor" part.  So with this article, I decided to step out of my warm fuzzy financial realm and think a bit further about the Daycare option versus the SAHM option.
Let me say that I've just deleted 500 words on the 2 options, and now I'm starting over again.  Why?  Because of the variability within each of the 2 options!  There are both bad SAHMs and bad Daycare facilities and great SAHM and decent Daycare facilities.  For each case, it really does depend on the SAHM and the Daycare options, parameters and individual variables…
So instead I decided to talk about what my wife did…
First, my wife breast-fed both of our kids.  This was advantageous from both a cost and health perspective.  For a great writeup on the benefits both from a health and cost perspective, check out this article –> (How Much Money Can You Save By Breastfeeding? ).  If you read that article, breastfeeding/breast milk is a superior option.
Before my kids started school, I was always surprised when coming home to see what the day's project was, sometimes it be playdoh creations, paintings, or whatever the latest bug that were caught for analysis.
My kids have been involved with swimming lessons, soccer, gymnastics,, t-ball, baseball, basketball, storytime at the library, lego club, science club, girl scouts, etc… ever since they were practically old enough to walk.
Both of my kids could read and do basic math before the started school, and both currently (although my daughter didn't at first) enjoy school very much.
I'm just touching the tip of the iceberg on why being a SAHM for my wife was a better option for us.
I have to admit, I was on the fence about having my wife be a SAHM.  She made good money as an Accountant, and after looking at a few online calculators, we would be quite a bit more wealthy (although we are still above average for our income class).
So, in the end, I have to go with a Charlie Brown answer and say that it really does depend on the parent when deciding to go either the SAHM or Daycare route for anyone else other than my wife.  But I can definitely say that for our kids, the SAHM route was the best for us…
I admit it really doesn't matter whether a child is raised during the workdays by a SAHM or a Daycare facility, at least if the parent isn't totally passionate about the task of being a SAHM to begin with.  After all, I'm not a SAHM child and look how wonderful I turned out (Ack).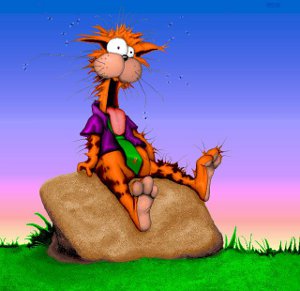 Care to share?  Please add to the conversation, I'd really like to hear your thoughts and experiences!
-MR
Did you like this Article?  Then please subscribe to my RSS feed so you can check out new articles when they become available.  You will help this blog grow by doing so!  Thanks!