Pig #1 of The Three Little Financial Pigs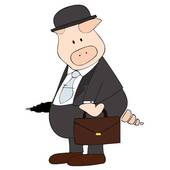 In the past, using two childhood friends and myself as examples, I compared the three of us to one of my favorite childhood stories, "The Three Little Pigs". 
Of course I put a different spin on the story, to make a financial comparison of our lives.  I really enjoyed writing the stories of the three financial types that my friends and I represented so I thought I'd provide an update on the three of us (in this article, it's Pig #1), if you haven't read the original stories, check them out too…
Little Pig #1 Update:
Many consider Pig #1 to be the most interesting of the lot of us, since he was once a VP at a few large companies (read his story called: The Three Little Pigs, Pig #1).  For a while, he lived high on the hog (pun intended), owning a Mercedes and every year going on fancy vacations and hosting elaborate parties.  However, when hard times hit, his family had to live in his brother's basement when he lost his job. 
He made enough money in his prime, that he would have easily been a millionaire if he invested the money he made instead of spending it like he did.  The fault isn't totally his fault, he picked a spendthrift spouse that definitely hurt their financial position too.  Please note, a frugal or realistic spouse is very important in wealth accumulation!
Today, Pig #1 is doing much better!  He found a new girlfriend that has more common sense and is a better person all around.
He also got a new job (right before his unemployment benefits were to run out)!  It's not a VP position, but he does head up a division as a director.  From what he has told me, he's already impressing the top brass.  This doesn't surprise me, he's top-notch in the quality of work he performs.  Too bad he doens't employ the same vigor with his finances.
I regret to say that although he is better off today, I fear that his new girlfriend (while much better) also like to spend money freely and quickly.  I'm sure they will be in a better position than he was previously, but I don't see him every becoming truly wealthy from a financial sense.
So while he has improved, and I don't see him every moving back into his brother's basement, I don't see him becoming financially independent either.  The house his parents bought for him will at least provide him a decent base to cling to.
As for his status, I'd say that he's beyond being a solid Pig #1!  I think he's more half way between the Pig #1 and Pig #2 types now!
Here's to wishing him the best!
-MR
Please subscribe to my RSS feed so you can check out new articles when they become available.  You will help this blog grow by doing so!  Thanks!