Late last year, my old lawn mower (Mean Green) finally broke beyond repair, and so I had to kick it to the curb.
Before I bought my new red toro lawn mower, I borrowed mowers in the past including a Honda push mower (very heavy), a John Deere self propelled (stiff and also heavy), and a MTD (lighter but not much better).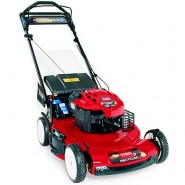 Out of the mowers that I tried, I have to say that my red Toro Recycler lawn mower is my favorite.

Initially I hated to spend $375 dollars on the new toro lawn mower that I bought, but I've changed my mind and below are the reasons why I've had a change of heart.
Personal Pace Self Propel, this is awesome!  Initially I thought big deal, but after using it for a few times, I now understand the value of a variable paced self-propelled lawn mower.  When I use the constant speed John Deere, it was good but I was limited to a speed that I couldn't control, so I was limited as to how fast I could mow.  With my Toro Recycler, I was only limited by how fast I chose to mow.  When my son was mowing, I even saw him run with it.  Of course I went out and yelled at him (Grrr).  This feature shouldn't be overlooked, it's awesome!
Maintenance is easier!  I dreaded changing the oil after using it for 5 hours (need to do if the mower is new) of use and thought it would be a pain.  But since it comes out at the top instead of the bottom (Mean Green was a pain this way), it was quick and easy.  I was pleasantly surprised!
An even better workout!  Since Mean Green was a push mower, I assumed the I would be getting a better workout with him, but this is not the case!  Since I can go mow much more quickly, I actually maintain a more brisk pace, so I think it's almost borderline aerobic!
A tank that will last the entire mowing cycle for my yard.  The gas in "Mean Green" sometimes didn't last for the entire yard, and I would have to refuel it every now and then, but this is not the case with my new toro mower!
Special mowing blades enable me to mow without having the mower set to mulch.  If I didn't have my old lawn mower in mulch mode, I the grass would be to thick and I would have to rake it up.  With my new toro mower, even when the mower isn't in mulch mode I don't have to rake because it cuts the grass into smaller pieces.  This was a pleasant surprise, and great for spring when the grass is growing like crazy.
The mower is so easy to work with, that my son (10 years old) can mow the lawn occasionally (yes, for money).  With the old mower he couldn't start it, but with the Toro "Easy Start" system, even my son can start the Toro lawn mower!  Plus with the "Personal Pace Self Propel" system, my son doesn't have to strain to mow the grass!
It has a special washing system where you attach a hose to it and turn on the water and run it for 15 minutes to have the mower clean itself, but I don't use this feature because I don't want to waste the gas or water.  Still it's an intriguing idea.
I've decided to call my mower "Red" as in the movie (and book) "The Shawshank Redemption".  Even though I'm not getting paid to write this article, I thought I would share my experiences with the product.
I hope you found this personal review helpful,
MR