We're at the local Drive-In theater, and having a ball!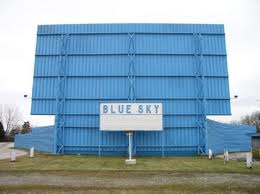 It's a Tuesday night and there are a total of only 15 cars in this huge drive-in parking lot.  We paid $16 to get in and it's almost like we own the place!  There are mostly cute families with their kids, the atmosphere is very quaint and small townish.
I'm watching my kids slide down an old sliding board that looks even older than I am.  I went up to the playground to watch my son push smaller kids on the merry-go-round, when I decided to go check out the screen.  Surprisingly, it was made of very thin metal that has been painted white.  I don't know what I thought it was originally made of, but I was surprised how thin the metal was…
I'm going to pay for it tomorrow, but for now it's quite the experience.
Oh no, we listened to the movie via our car radio, and since we watched two movies back-to-back, our car battery died.  I was wondering why the car beside me started her car during intermission (now I know)!  As I was getting ready to ask a nearby car for a jump, my wife told me that the drive-in attendant said they have a battery charger for jumping the cars.
So I walked up and tried the door called "entrance" with no luck, it was locked.  I then walked around the building and found a door that had a light on behind it.  I knocked and got lucky as an older woman told me about the battery charger and gave it to me to jump my car.  It started the first try!
It's now 2:30 am, and I have to get up at 5:45 am, it's going to be a rough day tomorrow, but it was worth it!
You see, we like for our kids to have the experiences, and this is one of them!  Next we'll have to go to our annual "camp out on the lawn" orchestra concert, then camping…
The Drive-In and other unique experiences are always well worth it.
Good night,
MR