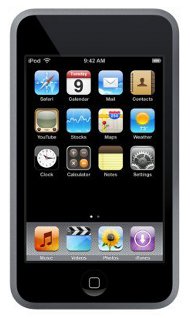 Up to the current last few days, I've resisted buying an Apple product.  That was then, but now I've changed my mind and I bought the iPod touch as a birthday present for my son.
To me, Apple products were just too expensive, especially when compared to comparable products in the marketplace.  When considering MP3 players, I always went with the much cheaper sansa products instead of the much more pricey iPod mp3 players.
When I first heard of the Apple product called iPod touch, it was in an email response from the blogger at CashMoneyLife.com.  I was asking about it and he stated that it was great.  At first, I thought he was crazy…  why would someone want a such expensive mp3 player?  Later, I learned that it was much, much more than just an mp3 player.
Boy was I mistaken!  In fact, I now believe that the iPod touch is the perfect Birthday present.  The iPod touch is really more like the iPhone except without the build-in cellular logic and the expensive service cellular contract.
I especially think the facetime aspect of the iPod touch should be a fun way to communicate over the internet!  Facetime is basically a camera on the front of the camera that allow the iPod touch owner to communicate with other Apple smart devices via both video and sound.
In fact, I think the facetime feature makes the iPod touch appealing to girls and even older women (especially moms)!  It's so easy to use and the social aspect of facetime makes the device more that just come nerdy smart device that boys traditionally love to play with.  The iPod touch, iPhone and iPad are game changers with respect to these devices just being in the realm of males only!  Very clever Apple, very clever!
Of course my son mainly wants the iPod touch for the games, chatting and mp3 capabilities.  But I think any exposure to the device will give him a heads start on getting comfortable to such technology!  This is why I think that the iPod touch is a great birthday present, especially for kids!
Once you get experience with the iPod touch, perhaps you'll want to try out the latest Apple device, the iPad?  Read the article called "My Thoughts on the Ipad" written by Kris at Everydaytipsandthoughts.
Cheers,
MR