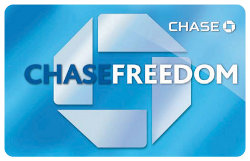 Making Your Credit Cards Work For YOU!
Okay, let me start by saying that I'm the master of my credit cards and they work for me not against me!
I use my credit cards for everything that I possible can!  I use them for the typical stuff (clothes, groceries, gas, etc), and even non-typical things such as fast food, taxes, car insurance and really anything that I can charge with them!  I've even tried to buy a new car with my rewards credit card (the dealer wouldn't bite on that one though)!
So why do I charge so much with credit cards?  CREDIT CARD REWARD POINTS

Yes, I love credit card reward points that I get for using credit cards!  I've use my points to buy computers, camcorders, jewelry, clothes and other such items.  But my favorite thing to buy with reward points (other than getting cash back) is gift cards.
I've found that if you buy $100 denominations of gift cards, you get a better point to value ratio!  So I almost always go for these types of rewards today.
The trick with reward credit cards is that you must pay your balance in full each and every month.  If you don't do this, it greatly diminishes the benefits of the reward points provided by such credit cards because the interest on carrying a balance on such cards is usually much higher than the bargain non-reward credit cards.  So please don't use reward cards if historically you have carried a balance!
Present Day Purchases
My last three purchase (from oldest to newest) has been Nintendo DS, Sony Camcorder and a ASUS Computer (it was only $700!).
Although I've bought TVs in the past, I'm going to buy a LED or LCD Big Screen TVs and then take a different direction with future purchases using reward points from my reward credit cards.
Future Plan Purchases
I've come up with what I think is a clever solution to take some of the bite out of minor, future emergencies, at least to some degree.
My house is over 10 years old now, and this means that my some of my appliances are starting to get pretty old too.  So lately, I've thinking about letting my balance ride until my dishwasher, clothes washer or dryer, or any appliance start to fail, at that point I'll redeem my points and buy a new appliance with the reward points.  The only caveat is that I'll have to cash out some of the point every 5 years or so.  Some of the credit card companies have the points start to expire around this time period.  You really should check your policy to determine when the points start to expire.  Another option would be to call credit card company's customer service 1-800 number and ask them if and when the points start to expire.
As an alternative, I'm also thinking about getting reward cards such as Chase Freedom that will give you cash back instead.  That way I can create a special emergency fund this way.  Actually I'm kind of fond of the idea of a free emergency fund (lol).
The key is to have total control of your spending!  I only spend on what I normally would spend money on, nothing more and nothing less.
Do your credit cards work for you, or you for them?
MR