After reading some of the information about the Chase Freedom Credit Card (from an endless stream of mail from Chase), I decided to take the plunge and sign up for one.
Today, I'm going to give you an objective review, and my personal perspective on my findings on the Chase Freedom credit card.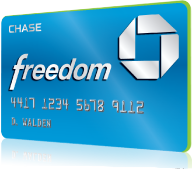 What got me to sign up for the Chase Freedom Credit Card:
Well, basically it's partially because it's a rewards card with up to 5% off on some purchases during certain quarters of the year.  But another huge reason was that it offered an instant $300 cash reward just for making any purchase after receiving the card.  So to test that out, I bought a latte from McDonald's and waited a month to see if I would still get my $300 cash reward points with such a small purchase.  Low and behold, once my statement came, at the bottom of page one and under the heading "CHASE FREEDOM:  ULTIMATE REWARDS SUMMARY", there was my $300 dollars (in the format of 30,002 points).  The 2 in 30,002 was from the latte that I bought…
Chase Freedom Credit Card Details:
Let me say that this card is a bit different than any rewards card that I have ever dealt with before. First you get a flat 1% on all purchases!  But you can get a bonus 4% (making the total 5%, instead of just 1%) on certain certain purchases!
In many ways it makes you work a little for the bonus 5%reward percentage gains.  With my previous reward credit cards, I just used them and the reward percentage was a fixed number, no thinking or work  involved.  But with this card to get the 5% off, I have to activate that bonus feature each quarter (via the phone or website), and buy at those particular types of stores or purchase those particular activities that they offer.  In some ways this is a slight pain, but for bonus 5% off it's worth it.
The Chase Freedom Credit Card materials do not explicitly say the deals will be offered quarterly, but it appears that is what they are basically doing.
The 5% bonus categories for 2011 is:
January thru March

:           Grocery stores, Drugstores

April thru June

:                    Home improvement stores, Lawn & garden stores, Home furnishings stores

July thru September

:         Gas, Hotels, Airlines

October thru December

:   Movie theaters, Dining, Department stores, Charitable organizations
Each quarter, once you have have spend $1,500  you then revert back to the 1% reward rate, including the bonus categories.  So according to the information sent out by Chase, if you only spent $1,500 in the bonus categories each quarter, at the end of the year you would get $300 back in cash.  Of course that number isn't including any other spending per the year.  We calculate that with the amount of spending that we charge to the credit card (remember we pay our balance in full each month), we should get at least $600 per year from this card if we use the bonus feature!
Activation of the bonus points is easy, just click Activate now at the Chase site, all you need is the last for digit of your credit card.  Again, pretty easy, especially if you schedule it in a calender problem such as the Google Calendar App., Microsoft Outlook, or whatever calendar problem you prefer.  Then again, you could sign up for text messages from the same Chase Freedom website!
Testing the Chase Freedom Credit Card:
Now that I have my card, I decided to test out the customer service telephony service.  When I dialed in, mostly it was a string of voice menu options after voice menu options.  The navigation of the voice menu was simple though and the voice was pleasant and clear (I'm not sure how important that is, but it's nice to know).
I was able to retrieve my current balance and my most recent transactions.  I was pleased, so I decided to experiment and make a payment online.  Surprisingly, I was able to do this entire transaction without talking to a customer representative.  This might be the first time that I've ever done a financial transaction over the phone that involved my checking account numbers without talking to someone on the other end.  It was so simple, that I got worried and stayed in the system until I found a place to talk to a customer rep.
I was worried about identity theft, especially since I was able to call into my account without a pin, and make a payment with my checking account number.  After I got hold of a representative (fairly quickly, it was 6pm on a Sunday), he said that only authorized phone numbers can make such transactions and since I registered the cards using the phone that I was one, it was authorized to do such transaction.  Whew, wish I known that upfront.  I'm sure it's in the document somewhere, it's just that I didn't read it.
Well, that's my personal experience with my new Chase Freedom credit card.
I hope you found this article interesting!
MR