I've decided that the American Express Blue Cash Card is the ultimate rewards credit card for me!  That is why this is the first credit card that I went out and signed up for online.
After going out to the American Express web site, I came to the conclusion that choosing the card isn't as simple as I expected!
American Express Blue Cash Card really comes in many different shapes and sizes.  Okay…, not really, they all look like a credit card, but they do have quite an array of plans in the Blue Cash Card program!  It seems the have an option for all types of different consumers, and while this sounds confusing, it's actually great!  It's great because you get to optimize your reward plan payout based on the card type that fits you the best.
So after a quick look, the following American Express Blue Cards were the best options for me: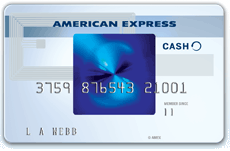 American Express
Blue Cash Everyday:
Earn 3% cash back on groceries, 2% at gas stations and department stores, and 1% on all other eligible purchases
No rotating categories or enrollment requirements for cash back and no limit on the cash rewards you can earn
No annual fee
And lastly, Get a $25 Referral Bonus for each friend or family member who is approved for the card
This particular card is nice because it has some great cash back rewards on normal living expenses without the hassle of remembering to activate bonus rewards options every quarter.  I want my credit card to serve me, not me serve my credit card.
Another reason I got an American Express Blue Cash Card, to be quite honest, is that I like the looks of this card!
So now my American Express Blue Cash Card  is now my primary card and both my wife and I have use the same card.  We plan on using it as much as possible to take advantage of the great rewards program!
I think if you look into the American Express Blue Cash benefits, you'll find that this card is one of the best deals out there too!
MR