Three Years Ago, We Started Buying Lego "Star Wars" Sets…
We bought my son the Lego's Star Wars "Republic Attack Gunship" (model 7676) for almost $100.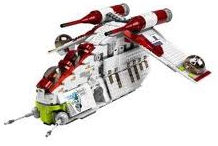 At the time, both my wife and I cringe at the purchase price, thinking that it was money down the drain. At the time that was all my son wanted, that has since changed!  Oh I tried to push the XBox 360 or other cool things that I want… erh, that I thought that he would enjoy!  But he insisted that the Lego Star War "Republic Attack Gunship" set was the primary gift that he wanted for Christmas.  I was very surprised when he even knew the model number was 7676 (he got it on ebay somehow)!
So even though we didn't want to pay close to a hundred buck, we bought it because that was one of the few things that he asked for.  I admit, once it came to the house, the packaging looked cool, and after he opened it for Christmas, it was pretty awesome putting it together, especially since the entire family helped.  This particular model has over 1,000 pieces and is actually very challenging and fun to put together.
A Room Overrun with Lego Star Wars Kits
Now my son is 11 years old, and has grown beyond the Star Wars Lego kits!  He still has an interest in Lego, and have a few Lego city models, but the Star Wars models have gone the way of Woody from the movie Toy Story where they just sit on a shelf in his room collecting dust… or did.  He has decided to take it upon him self to sell some of the Lego Star Wars models on eBay so he can get enough money to buy a decent laptop.  He told me that he wants to watch TV and play online computer games at the same time.  He studies this way too, and is still able to get straight As… go figure!
So after asking him if he was sure three for four times, I got online and decided to see what they were going for on eBay!
Legos Hold Their Value, and Then Some!!!
I expected to see prices from the range of $40 to a high of $75, but much to my surprised, they were going for $180 to about $200!  And for new ones over $200 and I even seen a few priced at $256!  I was amazed!  In three short years, the used models practically doubled in value!  Who would have guessed?
I suggested that if he wait, it might appreciate more by next year, but he thought that $200 was plenty for him!  Now we are going thru and checking to make sure all the pieces are there, and then we are going to list it on eBay (October and November are the best months to see toys on eBay).
Anyway, I thought it was impressive that a Lego Star Wars kit could appreciated so much in such a short time!
If you have kids that have Lego Star Wars sets, you might want to check the value of them just for fun.
Cheers,
MR