This year time is flying when it comes to Christmas!
We usually have certain things we get accomplished before the Christmas rolls around, but this year we are way behind schedule!  In fact, just yesterday, I finally go the light put up!  Usually we put the lights up in November during Thanksgiving weekend.
This year, I took a backseat and let me son figure out the lights placement and how to accomplish the wiring.  I instructed a bit with how the wiring should be accomplished, but he planned out how the wiring should be and where the lights should go.  Not bad for an eleven year old.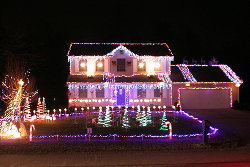 The weather has been so warn, that it looks like it's going to be a hard Christmas for us since we always (or at least usually) get our Christmas tree when it snows.  This will definitely affect our Christmas tree tradition by requiring us to cut down our Christmas Tree without snow this year.  We already proposed the idea to our kids to go this weekend, but they protested (wanting snow) and so we decided to wait a bit longer.
I thought I was done with Christmas Shopping, but wham, now I'm not.  The kids (really my daughter, because the Christmas bells no longer rings for my son) put a few things in the letters to Santa that we don't have yet.  Actually, on of the big gifts is a new laptop for my son.  I posted about the inner turmoil I had in the previously posted article called: "For Christmas, My Eleven Year Old Son Wants a Laptop!".  All those who commented swayed my opinion, so now I'm going to buy a laptop for him.  Thanks everybody that commented, your opinions really helped!
So now that I have a lot on my plate still, I need to get rolling, so without further ado, here are some of my favorite picks from the past week:
And now for the Carnivals that I had the honor of being in this past week:
Hope everybody had a great weekend.
MR