I've talked about the how I'm not in favor of the "Occupy" Protesters, and lately I am starting to wonder if we are Financially Spoiled in the United States?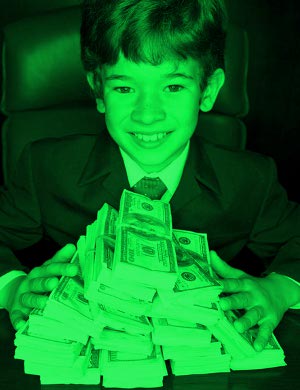 Why I think We Are Financially Spoiled:
First, let's start with a poster that I recently saw associated with the Occupy Protests, it was titled, "Shut Down the Corporations".  It showed a bunch of happy people in the poster riding a bike, one with a cane or golf club, another with a teddy bear, and finally a soccer player kicking over the block representation of corporations.  Such statements are incredible short sighted and really kind of naive.
What's naive is that the bike, cane, teddy bear and the soccer apparel, that the people in the poster had or were wearing all are likely produced by corporations!  In fact, without corporations those representations of the people wouldn't have most if any of that stuff!  You see, corporation make things (like bikes, teddy bears, and loans) that the average people can afford.  Without corporations mass producing things (yes even loans are made for mass consumption) only the rich and very rich would have those things.  What is also incredible naive is that the web host of the websites that display this or similar posters (or sign, pdf, etc) are corporations.  Again this reminds me of the person trying to get rid of a tree branch, but is sitting on the wrong side of the branch while they are sawing.  It's much like protesting Starbucks or bottled water companies while drinking them out in the protester groups.  How's that for irony?
As someone from below the "making over $100,000 a year" middle class, I know and understand the value of the services and products that corporations provide.  It's too fairytale-like to believe that corporations are the bad guys when in reality, they are a huge part of what makes American great.  Don't believe me?  Then why have former communist countries converted over to either a capitalist or a hybrid-capitalist (look at China) society?  What country has it better than us?  Certainly not Cuba or North Korea… Why do you think Russia and China changed their economic model?
I hate to say this, but I think the protesters are only looking one move ahead or looking at the trees instead of the forest.  I think if they mentally looked right and left to see how it all works, that they would agree with me.  If they would mentally think out all of possible results of their actions, it's obvious than any other societal model is not a desired economic or socially beneficial one.  If that's not enough, go out and interview some business owners, or better yet start a business yourself.  Nothing is preventing you from doing so, and the experience would be incredible educational.
So compared to most people in other countries of the world, we, the people in America, are very financially spoiled, at least in my opinion.  If you don't agree, try this link: http://www.globalrichlist.com/ and enter your info, or your parents (if you are in college).  Here is my spoiler to the globalrichlist.com link, if you make at or over $50,000, you are in the top 1% vs all the other incomes in the world.  Welcome to the 1%!
We (those in the US) have it very good financially?  Really, we do!
MR