It's Jan 1, 2012 at 4:14am, my dog started barking like an entire gang was at my front door trying to break in.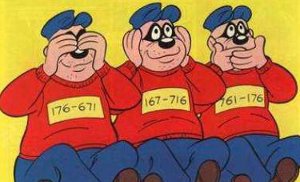 Much like the dad in Clement Clarke Moore's poem "Twas the night before Christmas", I sprang out of my bed in an adrenaline pumping state ready to encounter whatever threat might exist.
As I flew to the window to see what the environment looked like outside.  After a quick scan of the well-lite front yard, I suddenly came to realize that it's not "bad guys" breaking in (most likely they are hung over, sleeping off the alcohol they consumed during New Years Eve), but instead the intruder was of a different "four-legged" sort.  Yes the big emergency was another dog, a collared Beagle to be exact.  Now my dog (a chocolate lab), doesn't ever bark in the middle of the night.  To be honest, I thought she couldn't hear well.  There has been times when I've come downstairs, turned on the lights, then turned on the TV and our dog never even moved, let along bat an eyelid…
The entire incident made me rethink my home protection philosophy!  You see right now I don't have much in the way of worth at home.  Most of my money is in investments and other financial vehicles that are not lying around  in my house.  When I was in college, this was especially true, but things are different now.  Kids change the equation, burglars breaking in taking possessions is one thing, but burglars breaking in and potentially harming my kids in the process is another.  So since Jan 1, I've been thinking about increasing security for our home.
The following are some of the steps I'm considering to enhance my Home Security:
Buy a shotgun and put it in a lock protected plastic case.  Actually I want to do this anyway because I would like to go skeet shooting someday.
Researching the services provided by ADT Security.  I probably won't go with them but if I had more money they would definitely be a worthwhile consideration.
Search for an individual electronic House Security system for that isn't tied into a service.  I will probably go with such a system instead of ADT!
Keep my dog.  Like I was going to get rid of her (lol).  It's nice to know that she responds to sounds that she doesn't recognize.
Consider purchasing security signs, if possible.  Sometimes just the warning is enough.
Creating a home monitoring solution from old computers that I still have.  Mostly these would be used to capture video of a motion detector triggered it.  I'm just playing around with this idea currently.  No solid plans.
Automate lights turning on and off at certain times at night to leave the impression that someone is home (this would be very useful for times when your family goes on vacation).  During the day, the turning on and off of a radio via an automated timer would be of benefit too (although not very green friendly for the environment).
Family is important, and any form of deterrent may be of benefit.  Sometimes just knowing a house is being monitored will be enough to sway crooks from attempt to break in.
Are you well protected from the Home Security perspective?
MR