My son has been watching me blogging, and decided that he wanted to try to do the same, but in an area that interest him. His new blog is called Entertainment Timez and his blogging efforts along with other online activities now makes him a young entrepreneur!
While his blog is just a hobby, he noticed that I was doing some free SEO activities for other bloggers, but I was getting tired of doing it and planned on stopping.  He then offered to continue the service for $1.00 a week per blogger and so I presented his idea to the group that I was doing the activities for, and many of them decided to give him a chance with his service.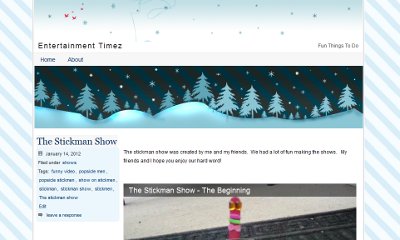 I realize that the other bloggers that have signed up for my son's service are really just trying to help him have a taste of what it is like to be an entrepreneur, and for that I'm very grateful!
So you might be wondering how much he is making with his online service?
Currently, only $9 per week, so that comes to about $468 a year which is not too bad for an eleven year old.  His Goal is to make $20 a week, which would mean that he would make $1024 a year.  This is not very exciting for adults, but for an eleven year old to see that he can make over  $1000 a year would be a great confidence builder!  Who knows how far he'll take it.
Personally, I'm excited about his entrepreneur activities because it means that I can now help him start a Roth IRA!  If you are wondering why starting a Roth IRA excites me, please read the article:  Starting Up A Roth IRA For Kids.  In this article it explains why I want to start a Roth IRA now that my son has earned income and why it's a great idea for kids to have one.
I'm especially proud of his latest efforts,  because he is now including videos that his he created with friends.  He created the youtube account, copied the video up, and embedded the video into his post.  If you have time and want a quick laugh, check out The Stickman Show.  I think the video is pretty good considering that it was made by a bunch of eleven year olds.
Check out his site, and leave him a comment or two!
MR
Carnivals I participated in this past week or so: