Today my son asked if he could spend $2 to buy special armor for some free online tank game.
Since I knew it was a free game, I instantly shot down that idea, actually making him feel a little bad in the process.  While I didn't mean to make him feel bad, sometime the way my mind works, when it get on a topic, it flushes out all the details in a combative manner.  Of course I wasn't yelling, but I think there was anger in my voice because of the FREE game would cost my son or me money.  I was mad at the game creators not my son.
It's kind of ironic really…  in 4 or 5 more years I'll be buying him a car (used of course), but here and now, today… I'm complaining to him about spending two dollars.  Ten minutes later, I explained to him that since he has his own business submitting blogger articles to social engines that he could use the paypal account that we'll setup for him to buy that two dollar free armor (yes I'm still a bit upset).  After all, I give him an allowance so that he learns to spend and save money in an intelligent way, and to date, he has done very well!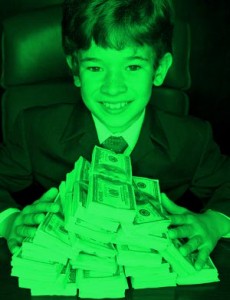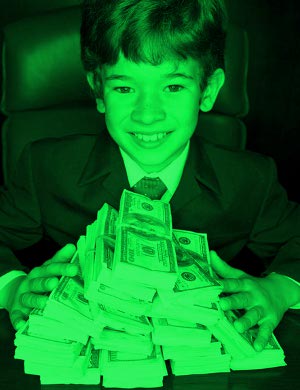 If you're a frequent reader, you know that I recently bought my son a laptop, so you might be thinking I'm over reacting…  But with the laptop, I knew he would use it for many things, so that seemed like a smart way to spend money, versus armor that if he got enough points by playing he could buy without spending real money (the money he would spend would give him points so he could buy the armor early).
Okay you've read my situation, now for a money tips with kids.  Much like adults, if the instant gratification factor is ignored, a kid (or person) will find that the item they wanted to spend money on will lessen with time.  So I'll wait until next week, and then if he still says he wants to spend the two dollars I'll let him.  But honestly, this will probably be the last I hear about the matter.
Time and desire are inversely related.  The more time runs, the less desirable an object becomes.
Cheers,
Mr