Blogger Carnivals are great mechanisms to get noticed from both the public and your niche blogging community (Mine is personal finance and anything money or value related).
In this article I'm going to identify the various benefits of both "submitting to" and hosting blogger carnivals.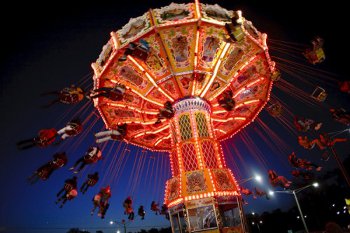 Benefits of Hosting a Carnivals
This is a great way of getting the word around about you blog.  Bloggers that hasn't seen your blog before will now recognize your blogger as one of the gang.  Hopefully some will even come back to read your articles now that they realize that you are in the same niche.

All members that submit to the carnival that you host are supposed to provide link-backs to the carnival, thereby increasing you exposure in google.  So there are SEO benefits…

You many find new favorites sites that you start to check out and read on a regular basis.  Sometimes having a like-minded fellow blogger goes a long way to make blogging much more enjoyable.  There are a few bloggers that I swore that I shared a brain with since we would always agree, and even have articles posted on the same days sometimes.

Satisfaction in knowing that you are helping your blogging niche community by helping newer blogs become better know.
Benefits of Submitting to a Carnival
One of the best reasons is to get known my other larger bloggers.  This is where you want to shine with the articles that you submit.  It's not easy to catch a larger blogger's eye, but it does happen…

A link-back from a larger, typically more established blogger.  Not only will his provide you some SEO benefit, but also it could very well increase your traffic from that post, thereby increasing your potential to establish new "frequent" visitors.  It's all good!

Getting noticed by other bloggers in the same niche.  If you write an eye catching article, other bloggers will go to your site to check it out, and you could potentially establish an ally

The more members you submit to, the greater your chances of becoming  famous…

There are some low-cost "Submission Services" out there than will do the submissions for you.  Some will even do the entire process including picking your article, submitting it, and gathering the list of sites that accepted your article so you can provide the link-backs to the host.  Personally, I use "

Corey for Hire

" for my submission services.  He provided very cheap prices while at the same time providing services that I never expected from the service, the "My Carnival Inclusions" below were all submitted by him (although I sometimes pick a few of the articles I wanted listed).
Okay, now that I listed the Benefits of Blogger Carnivals, how do you get started?
Well, there are a few carnival submission sites out there, but I usually make the Yakezie Carnival one of my first stops, and to submit to it I go to BloggerCarnivals.com.  Actually I have Corey submit my articles to most of the carnivals at this site.
Now that I've talked about the benefits of blogger carnivals, it's time to pay the piper.  Below is the list carnivals that I've been recently included in:
Best of Money at  Retire by 40
Best of Money at Squirrelers
Festival of Frugality at Credit Karma
Totally Money Blog Carnival at Motivating Mum
Carnival of Financial Camaraderie at My University Money
Carnival of Financial Planning at Married With Debt
Carnival of Money Pros at Thousandaire
Carnival of Retirement at Finance Product Reviews
Financial Carnival for Young Adults at 20's Finances
Yakezie Carnival at Tackling Our Debt
Carnival of Retirement at The Frugal Toad
Totally Money Blog Carnival at Sterling Effort
Thanks for reading!
MR