I found a duplex that I wanted to buy, but my inexperience caused me to miss this diamond in the rough!
The duplex that I wanted and pursued was what appeared to be the perfect starter rental property for an individual that wanted the "cash flow" from such an real estate investment.  It was small and appeared to be easy to fix.  Newer, but not so new that it would be expensive.  In a city that while on the small side, still had few duplexes available for renters.  And the last benefit was that it didn't have central air, instead it had two air conditioner units in the front with the holes neatly cut into the wall of each unit.  Each unit has two bedrooms and 1 bathroom, nice and simple.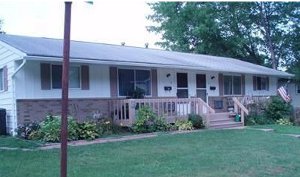 Yes, it's not sexy, but it's also not a total dog either.  It would have been perfect starter and learning home to own for me!
So what happened?
I went on vacation for a week shortly after the house went up for sale.
I didn't contact the real estate agent, instead I opted to try to establish a relationship with a bank so I could get pre-approved.  Surprisingly, even though I have no debt and a credit score over 800, I'm having problems getting responses from the bank that I contacted for the pre-approval.
I didn't jump on this deal.  After driving down to check it out, and realizing it was a great piece of property, I second guessed my opinion.  Instead I looked for reasons that it might not be a good deal.  Even though I was dragging my feet, I couldn't really come up with a reason not to buy the property.
I'm sure if I were more experienced, I would have been able to move with speed.  Too bad, it looked like a great start property…
Sad miss,
MR