Okay I admit it!  My family (except my daughter, she's such a nonconformist) loves Panera and even though it's costing us a decent amount of money (see the article: Spending Money Fail! How We Spend More Than We Realize), we'll continue to go there once or twice during most weeks.
Yes, we do this, but I don't have to like it!
To minimize the pain, I decided to start to buy two $50 Panera gift cards each time I go to Giant Eagle on the way home.  Of course I buy the gift cards with my "American Express Blue Cash" credit card, which currently gives me 2% back in reward points (so it would be $1 back for the combined total of the two cards) and also Giant Eagle points on top of that.  The gift cards aren't taxed when they are bought (only when the are used like regular money).  so I'm getting I get at least a 3% discount on the gift cards, not great, but not bad… every little bit really does count!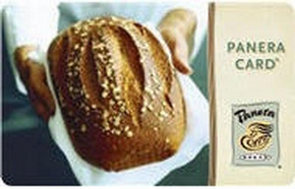 Okay, I admit, 3% isn't that much of a money saving, but at least it makes me aware of the high cost of going to Panera weekly.  Hopefully, after seeing a few $50 listed on my credit card bills, it will bring me awareness around the cost.  Most likely, this little trick will make me to start to develop less and less of a taste for Panera.
We'll see.
MR