Another Superman movie, geez I'll pass please… or will I?
I was very please with the Superman movie that came out a few weeks ago, much better than I imagined!  After Reeves and the other versions, I just wasn't into superman.  But the "Man of Steel" movie was not just the same old storyline.  This version of superman is worth the watch!  Who would have guessed?
Anyway, since I basically saved the Yakezie Carnival from the Ether today, I thought I would claim the role for a few minutes (after this is published, I'm just plain old Don again…)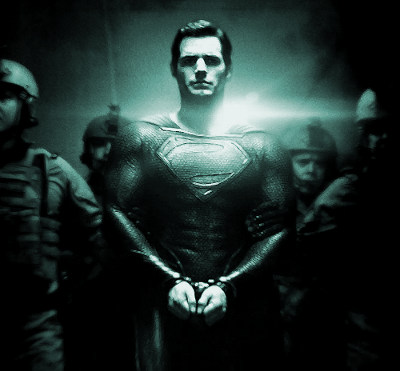 Sadly being superman doesn't mean that you are safe from big media and big heads anymore, and this is why I chose this picture.  Perception or even emotion is reality these days, facts and the truth of the matter no longer is important, just sensationalism.
Anyway, here is this weeks carnivals picks, enjoy.
Michelle @ Making Sense of Cents writes $10,192 in June Extra Income – Side Hustles! – As you can see from the title of this post, June was a great month. I don't know if July will be a repeat of this, but I'm hoping so. I have been adding more and more to my side hustles, and my lack of free time definitely shows for it. Good thing that I enjoy everything I do!
Usiere Uko @ Financial Freedom Inspiration writes Budget Busters – The Impulse Monster – Impulse spendingMost of the time, we get into trouble with our budgets because of spending on impulse. We make a decision at the spur of the moment and damn the consequences. Spend now, think later. The reality is that we spend by our emotions and justify with the mind.
Michael Kitces @ Nerd's Eye View writes Place Of Celebration Vs State Of Residence – Determining Federal Marital Status After DOMA Decision – While the recent Supreme Court decision overturning part of DOMA requires the Federal government to recognize same-sex marriages, the rules still vary as to whether the Federal government bases its decision on the state of the couple's residence, or their "place of celebration" where they got married in the first place, so it's crucial to know which Federal benefits and protections are based on which rules!
Emily @ Evolving Personal Finance writes June 2013 Month in Review: Money – When you meet your budget, good things happen!
Tim McAleenan @ The Conservative Income Investor writes Another July 1st, Another Million Dollars For Bobby Bonilla – This post discusses the little-known fact that Mets slugger Bobby Bonilla receives $1 million every July 1st as part of his buyout agreement in 2000, and then relates the shrewdness of Bonilla's deal to how we can structure assets in our own lives.
Corey @ 20s Finances writes Stocks to Pay Attention to Right Now – Every share of stock on a public market is a piece of a living business, one which has customers, employees, and a break room hopefully full of delicious goodies.
Wayne @ Young Family Finance writes The Three R's of Green Consumerism – Green consumerism can help in more ways than you think. How reduce, reuse, and recycle can same you and your family money.
SFB @ Simple Finance Blog writes Should You Buy a Foreclosure? – Homeowners these days are faced with many challenges and being unable to pay their mortgage is one among them.
Chris Topher @ This That and The MBA writes How about a personal loan? – If you have been following my blog for the great length of time that it has been around, ok since last week, you would know we recently became a two income household.
LaTisha @ Young Finances writes Is Cable Worth the Costs? – Cable gives you the ability to watch more channels, see a wider variety of programming, & really enjoy all that television has to offer. But cable is expensive.
Ted Jenkin @ Your Smart Money Moves writes Five Items To Always Buy Used – There are purchases that can really last for a long time and improve your bottom line if you shop the right way. Here are my five items to always buy used.
CAPI @ Creating a Passive Income writes Bulls and Bears: What You Need to Know About Entering The Stock Market – Interested in entering the stock market? There are things you should know first. Read here for tips on how to enter the stock market successfully.
Brent @ PersonalFinance-Tips writes Majority of Brits Feel Optimistic About Their Finances – Families are feeling more positive about their finances, according to a recent survey. Markit, a financial information company, says that Brits are more upbeat when it comes to their money than any other time since 2010.
Amanda L Grossman @ Frugal Confessions writes The Walgreens Drugstore Game is Not Dead! – Do you remember about two years ago when Walgreens stopped allowing you to use Register Rewards® (in-store credit) to purchase other products that yield Register Rewards®? Sure, you could still purchase the products and pay with your Register Rewards®; the
Ashley @ Money Talks Coaching writes How Am I Going To Pay Off Two Million Dollars Of Debt? – Well, things are kinda starting to clear up over here. It's been 10 weeks since my Dad passed away and we are still finding stuff.
Luke @ Learn Bonds writes The 10 Year Treasury Rate: Where to Next? – Here is my 10 year treasury rate forecast for 2014. A look back at where we have been, the recent rise in the 10 year treasury rate, and where we are going.
Madame @ Madame of Elegance writes How To Budget For Buying A Home – I just a bought a house! In this post, I layout 6 steps on how to go about budgeting for a home. There is no right or wrong way to budgeting, but this is how I went about it.
BARBARA FRIEDBERG @ Barbara Friedberg Personal Finance writes CREATIVE FUNDING IDEAS FOR YOUR SMALL BUSINESS – Entrepreneurship financing ideas. Small business owners-funding tips.
Don @ MoneySmartGuides writes Expert Advice on House Selling – Thinking of selling your house, read this expert advice first.
Kyle @ The Penny Hoarder writes 4 Ways to Cut Your Expenses and Save Big – As a penny hoarder, you likely love to find ways to make extra money, and there are certainly no shortage of ways to do so. However, making extra money is only one part of the equation. To get ahead even more, consider finding ways to save money. If you're saving money AND making extra money, The post 4 Ways to Cut Your Expenses and Save Big appeared first on The Penny Hoarder.
Debt Guru @ Debt Free Blog writes E-WALLETS, are they safe? – If you are a keen online gamer you will know that once you have chosen your preferred online casino you will have to make a deposit. But how safe is it these days to give away your bank details online? This is where E-wallets come in.
IMB @ Investing Money writes A Fresh Look at the Oil Sector – The past ten years have brought changes in oil and gas exploration. Foremost among them has been the revolution in "fracking." Read here for information.
Daniel @ Sweating the Big Stuff writes I Got Sideswiped On The Highway: How To Handle Car Accidents – Driving home from work, I got sideswiped by another driver who crossed into my lane. Here's how I handled the accident process.
SBB @ Simple Budget Blog writes It's Summer – Time to Budget for Back to School – School's out! While there's fun to have in the sun, it's also time to think about budgeting for the next school year. Read here for budgeting tips.
DW @ Great Passive Income Ideas writes A Great Residual Income Formula Using Blogs – If you've got a little bit of extra time on your hands, you can create a blog and use a simple residual income formula to make money from it.
MMD @ IRA vs 401k Central writes Roth and Traditional IRA Income Limits – Can I Contribute? – If you don't exceed the Roth and Traditional IRA income limits for 2013, then you may be able to invest more of your money into a fund for tax free growth.
MMD @ My Money Design writes How the Lower Taxes From a Long Term Capital Gain Can Work Into Your Early Retirement Plan – Now that I know a long term capital gain (much like dividend income) is taxed at a lower and more favorable rate than ordinary income, I can use this to further my early retirement plan.
Roger the Amateur Financier @ The Amateur Financier writes 3 Reasons You Could (MAYBE) Beat the Market, Even When Professionals Can't – If you've spent any time at all reading personal finance information, you've probably heard that 'you can't beat the market'.
Minimalist @ Minimalist Finance writes Free or Inexpensive Summer Activities To Do With Kids – Free or Inexpensive Summer Activities To Do With Kids has been published on Minimalist FinanceWhen kids are out of school, they can be expensive. The act of chauffeuring them around to and from activities and friends houses and play dates and shows can cost a ton of money in gas and then you have to spend on the activities themselves, as well.
Lauren @ L Bee and the Money Tree writes How To Start Budgeting – A great guide for how beginners on how to start budgeting
Robert @ The College Investor writes Student Loan Debt and Sallie Mae: Getting the Help You Need – Federal student loans are typically handled through Sallie Mae's Department of Education Loan Services. One of the biggest forms of aid that Salle Mae offers students is that their loan payments are deferred until six months after they graduate provided that they are enrolled at least half time, typically 6 credit hours per semester, for at least two semesters of the school year. As long as you stay enrolled for a period of less than six months, you don't have to make student loan payments.
Ryan @ Cash Money Life writes Part-Time Jobs that offer Health Insurance Benefits – Are you looking for affordable health insurance? We list 12 companies that offer health insurance benefits to part-time employees. Get started now!
Hank @ Money Q&A writes Infographic: Bear vs. Bull Infographic. What's Next For Gold? – Check out the great infographic: Bear vs. Bull Infographic. What's Next For Gold? Are you a bull or a bear about gold's future? There are a lot of reasons for both.
Mr. Frenzy @ Frenzied Finances writes Finding Quality: Products Worth Your Extra Cents – Though quality may be subjective to some consumers, there are products that make sense to pay extra. Read here for tips on products you should invest in.
Dividend Growth Investor @ Dividend Growth Investor writes Why most dividend investors never succeed – Unfortunately, even if you identified the perfect dividend growth stock, you can still lose money. This is because identifying and selecting an amazing stock, with amazing prospects, and attractive valuation is just part of the formula for investment success. The next part is the psychological traps that could cause you to do silly things.
Money Cone @ Money Cone writes How to Invest When You Have Very Little to Invest – In this post, I'm going prove conventional wisdom wrong and show you ways to invest even when you have very little to invest.
Matt @ Living in Financial Excellence writes Homemade Liquid Laundry Soap – This recipe for laundry soap will give you great quality laundry soap, and since it's not filled with harsh chemicals it won't give you any allergies. It's Low Sudsing to No Sudsing. Remember that its the ingredients in the soap, not the suds, that does the cleaning. Works well in traditional or HE machines. I will make this laundry soap again.
Crystal @ Budgeting in the Fun Stuff writes 9 of the Coolest Free Apps Available – Ever since purchasing my first smartphone, I like to periodically take a look at the free app market to find the hottest and coolest apps available.
Jason @ Live Real Now writes How Have You Improved Your Situation Today? – Every day, in some small way, it's important to do something to improve your situation. Whether it's paying down debt, researching inexpensive alternatives to your existing expenses, or something as simple as hugging your spouse or playing games with your kids.
Crystal @ Married (with Debt) writes Is A Salaried Job Really Better Than An Hourly Job? – For years, I aspired a salaried job; it seemed like the pinnacle of professional success. Then I got one… and pined for the hourly job I'd left behind!
Kevin Watts @ Graduating from Debt writes CU Student Loans Review – A very detailed look into one of the most popular credit unions for student borrowers
Everything Finance @ Everything Finance Blog writes Two Affordable DIY Summer Learning Activities with Magnets – Summer is supposed to be a fun vacation time, but that doesn't mean your kids have to veg on the couch all day. These two activities will stimulate their little minds while keeping their hands busy. Remember, these two fun activities can be taken anywhere with the use of a magnetic cookie sheet.
krantcents @ KrantCents writes Top Secrets to Make Recruiters Find You – Would you like to have recruiters call you? It is always great to have recruiters call you. Over the years, I have had my share of opportunities from recruiters. There are employers who have openings that need to be filled.
A Blinkin @ Funancials writes Q2 Review – 2013: Is Good News Bad News? – Since 2008, the Federal Reserve has reached beyond the traditional tools of monetary policy in an effort to fulfill its' dual mandate of achieving maximum employment and stable prices. Most recently, the Federal Reserve introduced a third round of quantitative easing, purchasing a combination of $85 Billion worth of longer-term U.S.
Mike @ Personal Finance Journey writes Are you financially ready for a Pet? – Six ways to tell if you are financially ready for ownership and pet costs. How to plan for your new family member.
Daisy @ Suburban Finance writes 3 Things You Can Do Today To Slow Down Credit Card Use – As credit card use continues to skyrocket, more and more consumers are finding themselves in debt. There's no surprise that there's quite the correlation there. Living in a consumerism driven society, many of us have become used to the term, "It's OK, I'll just put it on my card." when we can't seem to afford …r
Jacob @ AllPersonalFinance writes A guide to planning a wedding overseas – The average cost of a wedding in 2013 is lb21,939, according to research from industry magazine You
Maria @ The Money Principle writes Get Rich, Think Like a Rich Person – Read these five differences between the way in which poor and rich people think.
Matt Becker @ Mom and Dad Money writes How to Beat 80% of Investors With 1% of the Effort – Investing doesn't have to be difficult. You can be very successful with minimal effort as long as you make sure to follow a few simple guidelines.
PPlan @ Provident Plan writes Life Insurance & the U.S.'s Top 5 Most Dangerous Jobs – One might not think that the two would go hand-in-hand—in fact, one might think that danger and life insurance would be akin to oil and water—but believe
Little House @ Little House in the Valley writes Tread Lightly in this Economy – News about the health of the economy seems to be contradictory; on one hand, auto sales and the housing market are on an uptick, yet on the other job creation is flat. So how can any individual buffer themselves against such a delicate economic state of affairs?
Prairie Eco Thrifter @ Prairie Eco Thrifter writes Make Your Life Better: Break an Old Habit or Two – Making changes to your habits and beliefs isn't going to be easy but if you are determined to make yourself a better life, you will find the strength to stick with it. Do yourself a favor and examine your beliefs, change an old habit or two and enjoy the life you want to live.
Kanwal @ Simply Investing writes How Would You Like to Give Yourself a Raise? – Would you like to give yourself a raise? You can by simply investing in companies that regularly increase their dividends. Dividend increases mean more money in your pocket. An increasing supply of dividends increases your income. You can use that increased amount of money for anything you wish, or re-invest it and earn more for years to come.
Suba @ Broke Professionals writes Battling the Gender Gap – I thought my company's policy that prevented employes from discussing their income was designed to protect me. I soon realized it only protected the gender gap.
Grayson @ Debt RoundUp writes Why is Prepaid Such a Dirty Word? – After a friend thought that I was having financial difficulty because I was looking for a prepaid phone, I decided to look at why there is such a stigma surrounding the word "prepaid". Why do you think "prepaid" is such a dirty word?
KK @ Student Debt Survivor writes Please Don't Invite Me to Your Wedding – The other day a friend and I were talking about weddings. Without really meaning to, we got into a long discussion about how ridiculously expensive attending weddings has become.
Alice @ Drop the Cookies! writes Stop sabotaging your weight loss by waiting for a fresh start! – Whether your fresh start is beginning on a Monday, the 1st of the month, the new year…it doesn't matter. The main point is that you are waiting, not acting right now.
Alice @ Hurricanes, Panties & Dollars writes The pterodactyl retirement plan – An interesting conversation, a plan to trap a pterodactyl and waking back up in the real world. Plus a fun, catchy video and perhaps a little talk about retirement.
Tushar @ Finance TUBE writes Easy Ways To Save For a Summer Vacation – Today I will be talking about Easy Ways To Save For a Summer Vacation. Summer time is here and now its a great time to take your family on a much needed vacation. However not many of us has a large vacation so that they can dip into any time that they wanna go.
Glen @ Monster Piggy Bank @ Monster Piggy Bank writes The Best Penny Stocks I Have Owned – In this post I go through the best penny stocks that I have owned as well as the reasons for why I bought them.
Tushar @ Start Investing Money writes Can You Be a Spender as Well as a Saver? – When you hear about individuals and their money habits, you generally find they fall into one category or the other. They're either spoken of as a spender or a saver.
Pauline @ http://reachfinancialindependence.com writes Early retirement in the US vs abroad – Early retirement can be easily achieved in a country with low costs of living. Is it worth it?
Pauline @ http://makemoneyyourway.com/ writes Why real estate is the best way to make money – This is a post about why I think real estate is one of the best ways to build wealth and make money.
PK @ Don't Quit Your Day Job… writes Part 1 of Tales of a Mortgage: How I Learned to Stop Worrying and Love the ARM – My co-writer delves into the intricacies of his 5/1 ARM to purchase in Texas. Perhaps it isn't an instrument of financial destruction?
Jefferson @ See Debt Run writes Ten Reasons Why I Love Our New Neighborhood – Sometimes, packing up and moving to a new neighborhood can make all of the difference in the world.
Vanessa @ Vanessa's Money writes Tips for furnishing your first apartment – Moving into your first apartment shouldn't cost a lot — here are some tips to get you into your new place for almost nothing!
John S @ Frugal Rules writes Who Knew Buying a Mattress Could Be So Much Fun? – Buying a mattress can be a very expensive endeavor – if you allow it to be. If you do your homework, avoid the slick salespeople and are frugally minded you can find a mattress that your back will appreciate for years to come as well as save a little money along the way.
Jon @ Novel Investor writes Contrarian Investing: Going Against The Grain – Contrarian investing is an investment strategy that goes after the unpopular choice, the beaten down stock (or sector), and doesn't follow the crowd.
Mr.CBB @ Canadian Budget Binder writes Out of Stock: Get a Rain Check – Don't leave the store without getting the product you went in for, especially if it was a flyer sale. Take a few moments to ask customer service if they will issue a rain check. For many reasons this might be a smart move towards saving money in your budget.
Anton Ivanov @ Dreams Cash True writes The Smart Ways of Using Credit Cards – Credit card debt is best avoided, but that doesn't mean you should only carry cash. Check out these 4 smart ways of using credit cards.
AB @ Aspiring Blogger writes Income and Expense Report – June 2013 – Well, we didn't spend $100k like we did in May, but we did spend a TON more than we usually do. See what we earned and why we spent what we spent.
Jessica Moorhouse @ Mo' Money Mo' Houses writes Toronto's Flash Flood & Learning to Rough It in the Big City – Recently, I got married, quit my job, and moved from Vancouver to Toronto in hopes of finding my dream job and hopefully have the financial free life I've always fantasized about. Well, no one said it was going to be easy that's for sure.
Money Soldiers @ Money Soldiers writes How to Save on Your Renters Insurance Quote – Here are some simple yet effective tips to help you save on your renters insurance quote. When you're paying less to the insurance company, you're actually having them work harder in your favor.