I'm flying out on a business trip soon, and I heard about the following information which I believe is pretty interesting.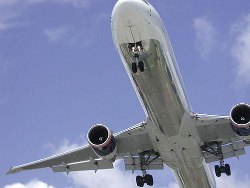 Southwest Airlines works together with Chase Bank to provide loyal customers with the Rapid Rewards credit card program. These cards are available for both regular and business travelers who frequently use Southwest Airlines to get to where they need to go. They will receive preferential treatment at the airport as well as gain access to great deals on hotels, car rentals and events only available to Rapid Rewards members. Points can be redeemed for flights, hotels, cruises and even gift cards.
The Rapid Rewards Plus Card gives cardholders 25,000 award points when they spend $1,000 in the first three months of opening an account. Cardholders will receive two points per dollar spent on purchases made through Southwest Airlines or AirTran Airways as well as any purchases they make with Rapid Rewards partners for hotels and car rentals. They will also receive 3,000 bonus points on their cardholder anniversary. The card has an annual fee of $69 that is applied to the cardholder's first billing statement.
The Rapid Rewards Premier Card is a top tier credit card with options for both business and leisure travelers. While the standard bonus award is the same as that offered to Plus card holders, Premier card members have access to more benefits that have a better rate of return on their expenditures. Cardholders will receive 6,000 awards points every year for their cardholder anniversary. There are no foreign transaction fees for purchases made abroad using the card. In addition, Premier cardholders are allowed to earn qualifying points that boost them towards A-list status. Plus card holders do not have this privilege. There are no blackout dates for Premier card holders who want to redeem their miles and get on a flight. The card has an annual fee of $99, which is applied to the first billing statement.
Some people may be able to apply for and receive a great Southwest credit card offer if they meet certain criteria. Travelers who carry little to no debt and have an excellent credit score will definitely benefit from the perks offered to Rapid Rewards program members. In some instances, travelers may want the perks that opening a Rapid Rewards card offers without the long-term responsibility of owning a credit card linked to the airline. For example, the opening offers provided by the Rapid Rewards Premier card give the user the ability to earn up to 50,000 bonus airline miles when they spend $2,000 on the card within the first three months of receiving it. This is a special limited offer that happens on rare occasions. Award points equaling 50,000 amount to over $700 worth of airfare, which is an incredible deal if one can take advantage of it. However, what should they do if they do not want to open another credit card account?
One approach that some people take is to apply for a credit card, be approved for it, and then close the account after the initial rewards have been collected. This technique is often used by consumers with good credit scores, no existing debt obligations and solid proof of adequate income. It is sometimes referred to as "churning". Cardholders get to reap the rewards without worrying about holding onto a credit card for a long period of time. Where Southwest Airlines is concerned, this can be a great way to get a free flight for the cardholder and a traveling companion. If they qualify for the current deal, then they will receive enough points to redeem a "Wanna Get Away" flight.
If you are considering a fly soon check out my step to prepare to fly article,
Here's to a safe flight and getting rewarded in the process!
Scott