So how did I do this past year, especially with respect to net worth and my "Secret Wealth Goal"?
First the good news!  Near the end of 2014, my net worth finally crossed over into the PAW (Prodigious Accumulator of Wealth) status that is mentioned in the book the "The Millionaire Next Door".  This is the first time this has happened to me, and I have to admit I was pretty ecstatic!
Second, the even better news!  For 2014, my "Net Worth to Accumulated Salary" Ratio (again from my Secret Wealth Goal mentioned above) is now 51.43% (vs 37.40% for the end of year 2012)…. Not too shabby.  For this net worth number calculation, I exclude the equity in my house!  If I include my house, the calculation would be much higher.  Ideally, I would like to have my "net worth to accumulated salary" ratio grow to over 100%!
Having my number climb over 100% would mean that my saving and investment gains would have outpaced the total value of my accumulated salaries… and that would be extremely awesome!
Hopefully in the next 5 years I get very, very close to that 100% ratio threshold (maybe 7 years, if I put in some slack for at least 1 recession within the next 7 years…)
it was nice being a PAW, even though it only lasted for about 60 to 90 days before my portfolio pulled back a little at the end of 2014 year.  Still it was very sweet while it lasted!  I'm not far from being a PAW again, hopefully this slump in the stock market will turn positive soon and I'll be a PAW for a longer period in 2015.  Hard to say though, this bull market has already ran for quite a long time and is sadly is getting pretty old.
Even thought I had some great financial progress for the 2014 year, in my Wealth Pyramid, I still consider myself at the lowest threshold of the "Upper Middle Class" section.  In fact, I still consider myself in the "lower upper middle class" category!
If I could increase my net worth percentile compared to the percentile of everybody in the United States by just 5%, I would then consider myself solidly in the "Upper Middle Class" area.  But I'm not there and that extra 5% move is a long jump.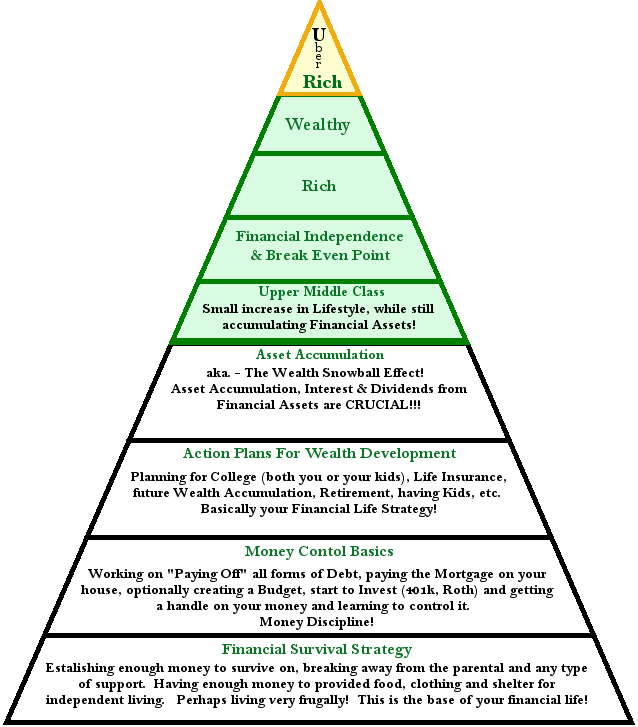 Thanks "year 2014", while not as great as year 2013, you were still a pretty decent year overall!
Good luck in 2015,
Don