Well it's the day after St. Patrick's Day.
Isn't it amazing how far this holiday? has become?  It's more like Christmas for the bars, where everybody dresses in green and goes out drinking (at least the college aged crowd does).  The closest I got to a bar and green beer, was when my son and I went to a coffee shop, and in the same plaza, we hard the early St. Patrick's day drinks partying it up 8 units down…
This year, Leprechauns were a big topic at my daughter's school!  She was so excited about the concept that she created a few traps and caught this little guy: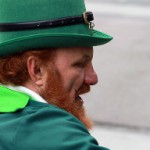 I hope everybody had a great St. Patrick's Day, I stayed sober this year.  On with the carnival (after taking an aspirin or two for some of you):
Erika @ Newlyweds on a Budget writes How to make money as a mystery shopper – Mystery Shopping has a lot of perks. It may not be a lot of pay, but you can get free groceries, oil changes, restaurant meals and more!
Corey @ 20s Finances writes Pay off Your Student Loans – Whether you read through magazines or listen to personal finance experts, they all say the same thing: there is no rush to pay off your student loans. They will cite reasons such as tax-deductible interest and higher returns on your money by investing. I disagree with both. You should pay off your student loans as quickly as possible.
krantcents @ KrantCents writes The 3 H's of Success – The 3 H's of Success is the eighth in a series of articles to help you reach your goal What are your goals? I know you thought about it! You know, it is your dream, wish or resolution you made! Before you can get to where you want to be, you need to know where you have been.
Ryan @ Early Retirement Investments writes Is It Better to Bank With a Credit Union? – After dealing with both, I'm come to a decision as to which is better between the two, read my choice!
Wayne @ Young Family Finance writes What to Invest in? – Are you wondering what to invest in? Where to invest your money? Find out what you should not be doing.
Jason @ Work Save Live writes Money Won't Make You Happy…But It Will Buy You Stuff! – "Money won't make you happy …but everybody wants to find out for themselves." – Zig Ziglar Some people say that 'MONEY is the root of all evil.' The problem is that we all need money to live. There are bills to pay and food to put on the table.
Shaun @ Smart Family Finance writes When Should You Rent and Not Buy? – Renting can save you money if you follow the rules and understand when you should rent instead of buy.
MMD @ MyMoneyDesign writes A Better Way to See If You'll Run Out of Money During Retirement – Want the most realistic simulation possible for figuring out if you'll run out of money in retirement? Try a Monte Carlo simulation using random numbers to simulate the future market performance. Download my Excel worksheet to test your withdrawal rate and see how your balance will do!
Crystal @ Budgeting in the Fun Stuff writes We May be House Hunting Soon – Yep, hell has frozen over and pigs are flying, Mr. BFS and I are thinking about house hunting soon for a larger home. The prices are just so low!
Evan @ My Journey to Millions writes There Are Some Business Models I Just Don't Understand – I am not sure why, but I often think about businesses, business models and profitability. This inevitably leads me to businesses that perplex me insofar as I can't figure out how they are profitable.
Don @ MoneySmartGuides writes American Debt Levels Back on The Rise – The New York Post recently posted a story about Americans deb levels. After the financial meltdown of 2008, Americans were on a tear paying down their debt levels and saving money. Sadly, the trend looks as though it is ending
A Blinkin @ Funancials writes The Rule of 100 – Who doesn't love rules of thumb? They are typically an oversimplified solution to a complex question. The only problem with them is that everyone is different. It's difficult to dish out such broad applications to such unique situations. There is one rule of thumb that I do like. It's the rule of 100.
Daniel @ Sweating the Big Stuff writes What March Madness Has In Common With Choosing Investments – It's march madness time! Who doesn't love this time of the year? Avoid these pitfalls in picking your investments (and these bracket busters)!
Tushar @ Start Investing Money writes How To Activate Your Score Gains Thinking – This Post was Originally published at How To Activate Your Score Gains Thinking on Start Investing MoneyYou'll never score a goal if you aren't charging for the end zone.
YFS @ Your Finances Simplified writes Want to go to Harvard for Free? – I was checking my email at my defined period of time ( shout out to 4 hour work week) and came across the following email. Man, was I surprised. Below you will find 7 opportunities to turn your life around.
Kevin @ Thousandaire writes Michigan Gives Food Stamps to Lottery Winner – The state of Michigan is giving food stamps to Amanda Clayton, the winner of a $1 million lottery prize. Blame Michigan for this blunder, not Amanda.
Kevin @ Invest It Wisely writes Things You Need to Know Before Becoming a Freelancer: Prepare Yourself – Many people dream of being able to say goodbye to their boss and work on their own terms, and on their own time. What could be more comfortable than blogging from bed, or waking up when one pleases? How about being able to blog from the beach and drink a beer at the same time, while working only a few hours per week?  It sounds really nice, but the reality is probably a little bit different.
Jon the Saver @ Free Money Wisdom writes Sole Proprietorship Tax Deductions You Need to Know About – You won't want to miss these sole proprietorship tax deductions if you file as a sole proprietorship for your business. Tax deductions are key.
Daisy @ Add Vodka writes Financial Protection: Pretending You're Broke – Protecting yourself financially by pretending you have no money, even if you do
What better place to add some good old green beer than after Daisy's site!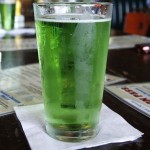 John @ Married (with Debt) writes Frugal Living: Easy Ways to Save Money – Frugal living is about strength in numbers. While you should focus on big money-savers when making a budget, there are little ways to save money that can add up.
D.J. @ The Family Wallet writes The Allowance: How to Teach Your Kids about Money – What you teach your children about money is likely to stay with them for the rest of their lives! You can take advantage of this tendency to prepare your children for a great financial future. Besides managing your own money well so they mimic positive financial choices, you can also teach your kids the practices of frugality, budgeting, saving over time, and much more with effective use of an allowance.
Marie @ Money Spending Mommy writes Tips for Paying Off Your Mortgage Faster – Throughout the first few years of your mortgage, the majority of your payment will go towards interest. These tips can help you avoid the interest-trap and work towards living the mortgage-free life you deserve:
Mr. Money @ Smart on Money writes Buying a Used Car? Watch Out for Flood Damage – As you look over a used car, check carefully for signs of possible water damage. You should also have your used car inspected by a mechanic you trust. This typically won't cost very much, and it can provide peace of mind as you buy the car. Plus, a good mechanic will be able to spot the tell-tale signs of flood damage — and attempts to cover it up.
Amanda L Grossman @ Frugal Confessions writes Procrastination has Actually Paid Off: Refinancing Our Mortgage – I cannot think of many examples where procrastination has paid off in either my life or in someone else's life.
Peter @ Bible Money Matters writes Beware of Tax Scams When Filing Your Return: TurboTax and Amazon Gift Card Giveaway – Because there are so many fraudulent or unethical programs out there trying to take your money from you (willingly or unwillingly), it's important to make sure that you use someone you trust in order to help you with your taxes.
Evan @ Smart Wealth writes 7 Ways to Break Up with Your Credit Card Debt – Anyone who has ever been in debt knows that getting out is not easy. So how can you make your breakup with credit card debt one that helps you regain your freedom, and learn a lesson?
SFB @ Simple Finance Blog writes 10 Costly Mistakes First Time Home Buyers Make – Below are 10 of the most common and costly mistakes first time home buyers can make and how to avoid them.
Ashley @ Money Talks Coaching writes How Has Your Childhood Affected Your Money Habits? – Think back on your childhood and choose one word to describe the feelings you had about money as a child.
Grand Per Month @ Grand Per Month writes Why So Much Talk about Passive Income? – Passive income is completely different from the earned income you make as an employee or a self-employed person. Passive income essentially takes no time at all to earn, which means that there are no restraints on how much passive income can be created! You, as a passive income earner, don't have that income ceiling that the doctors and lawyers have. Soon, you could make more money than them, and you'd be working less for it!
Luke @ Learn Bonds writes Are High Yield Bonds Over or Under Valued?..It Depends – high yield spreads over treasuries are still very attractive, and no where near historical lows.
Jen @ Master the Art of Saving writes The Ghosts of my Financial Past & Where I am Today – I've never hidden the fact that I used to completely SUCK with money, but I thought it might be helpful for myself as well as others to revisit the ghosts…
I actually didn't see anyone like this out on St. Patrick's Day, they must live on the upper side of town: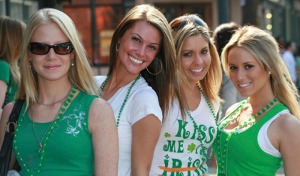 Kyle @ The Penny Hoarder writes How to Get Paid to Be a Better Person – If you miss the days of getting rewarded for being a better person then Dailyfeats.com is definitely a site worth checking out.
Suba @ Broke Professionals writes I Hate Tax Prep Time – I Hate Tax Prep Time is a post from: Broke Professionals if you enjoy it, please visit us and subscribe to the Feed. Now that the first round of tax documents are out (notwithstanding the corrected tax forms), it is time to get ready for that lovely spring time task – income taxes.
Jeremy Waller @ Personal Finance Whiz writes Carpooling Etiquette: 10 Ground Rules To Keep Your Sanity – Get carpooling off to a good start by establishing ground rules. Here are 10 carpooling tips to help you iron out all the details, including necessary vehicle insurance, carpool etiquette and logistics.
Jeffrey @ Money Spruce writes Can a Personal MBA be just as good as the real thing? – MBAs are expensive, but a cheaper and more effective alternative may be the Personal MBA that you can get nearly for free.
Everything Finance @ Everything Finance Blog writes Five Things You Can Do to Improve Your Credit Rating – Your credit rating isn't the be all and end all in terms of getting a loan, but it does play a huge roll. But, thankfully, you can take control of your credit rating and turn a negative score into a positive one.  Here are five things you can do to improve your credit rating.
Steve @ Brip Blap writes The Intolerable Cruelty of Spoons – I look with some real regret at some of the specialty cooking items I've bought over the years. If you are talking about a place in your house to review for frugality, most American kitchens would be a good place to start. Some useless items I own (or now "owned") and some alternatives:
Kay Lynn @ Bucksome Boomer writes Are You Majoring on the Majors? – You may not realize it now, but time is your most valuable resource and you should cherish it every day you're here on earth. This is why I believe in and practice the 80/20 rule.
Investor Junkie @ Investor Junkie writes Barron's 2012 Broker Survey – Barron's magazine updated their stock broker survey for 2012. This is the 17th annual ranking of online brokers. Drum roll… this year Interactive Brokers gets the top pick. Last year their top pick was TradeStation, which came in fourth this year. Personally I don't see what's so great about Interactive Brokers.
Aloysa @ My Broken Coin writes Some Jobs Pay More Than You Think – The other day I overheard a conversation in the park while waiting for my pug to sniff a dry bush on the curb. Two girls were power walking, passing by me, discussing something animatedly.
Hank @ Money Q&A writes The Unintended Costs Of Becoming A Landlord – Now that we are becoming a landlord I have found a few expenses that have cropped up. These unintended expenses for the most part could have been trouble if we didn't have an emergency fund set aside.
PITR @ Passive Income To Retire writes What Location Independence Would Mean for Me – Have you ever wondered what location independence or the ability to work from anywhere would offer you? Find out what it means for me.
FG @ Financial God writes Should You Worry About Gold Confiscation? – Are you worried about the government coming in and outlawing private gold possession again? After all, it wouldn't be the first time they had done so — the same was done by the FDR government, back in the Great Depression.
Miss T. @ Prairie Eco Thrifter writes 3 Employer Benefits You Must Take Advantage of – It's estimated that 20-30% of your compensation for employment is paid to you through benefits, not through your standard paycheck. The problem is that most employees are not maximizing the benefits being offered.
Steve @ Money Infant writes How to Quickly Pay Off Your Credit Cards – Do you want a simple formula for paying off your credit cards as quickly as possible? This is what I did to get rid of $60k worth of debt in just 33 months.
Money Cone @ Money Cone writes Companies I Won't Do Business With – There are many companies that don't make good customer service a priority. While I may not make an impact as a lone customer, what I can do is not deal with such companies. Might not make even a dent in how these companies do business, but it greatly reduces stress in my life.
101 Centavos @ 101 Centavos writes Investing in Farmland – So the world is running out of food, water and natural resources. We're all gonna die. Eventually, sure. But not just yet. In the meantime, the land gets mor scarce.
LaTisha @ Financial Success for Young Adults writes How Much will My New House Cost? – What are the factors that affect the price of my home? How can I use a mortgage calculator to determine my payments and if I need private mortgage insurance?
Eddie @ Finance Fox writes Rich Are Never Rich Enough – Earning $196K per year is a nice chunk of change and definitely puts you in the so-called One Per Cent—the top one per cent of income earners in Canada according to the latest Statistics Canada numbers. To break down the $196,000 annual income further, it works out to roughly $10,400 a month, after taxes.
KT @ Personal Finance Journey writes How to Save on Living Expenses When You Live Alone – In the United States, 11 percent of people under the age of 30 live alone (U.S. News). I lived alone for two years when I was in graduate school, and I loved the experience. However, living alone, especially in an urban area, can be expensive.
Dr. Dean @ The Millionaire Nurse Blog writes Killer Jobs: Do You Have One? – Is your job killing you, one keystroke at the time? What can you do when your job requires you to sit for long hours?
Dave Hilton @ Debt Black Hole writes The Creation Of A New Financial Term – Almost everyone's familiar with the term- Landlord. But what do you call someone who rents out the rooms in the house they live in? This guest post by Mike at Renting Out Rooms gives us the answer!
Echo @ Boomer & Echo writes Top Cash Back Credit Cards In Canada – I looked into the top cash back credit cards in Canada, including annual fee cards and no fee cards. Here are the three best cards on the market:
J.P. @ Novel Investor writes 2011 IRA Contribution Deadline Just Around The Corner – One of the complications with the tax code is not knowing when the tax year ends. This is certainly true with IRA contributions, where the tax year for some IRAs is just now coming to an end.
Paul Vachon @ The Frugal Toad writes Saving Money with a Digital Wallet – Google Wallet vs Isis – A digital wallet is an electronic packet that contains information such as credit card numbers and shipping addresses that can be used when purchasing goods and services. This digital information is kept at a central vault if you will, and in theory will make it much more difficult for hackers to steal digital information. This technology allows consumers to make online purchases without ever entering personal information.
Ken Faulkenberry @ AAAMP Blog writes I Lost 100% of My Investment and I'm Happy I Did! – Investors should analyze their investment mistakes, identify the reasons for the mistakes, and memorize the lessons that will prevent future mistakes.
Hope you all had a great day yesterday, and he's a toast to all the great articles in this week's carnival!
Cheers!