Both of my kids love dolphins!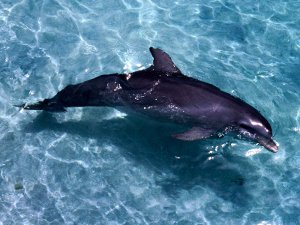 So this year my wife found a package were the family can "swim with dolphins" and the go to Sea World the next day during our Florida vacation.  Needless to say, this package is expensive.
Since both of my kids are still relatively young, a requirement in the deal was that at least 1 adult had to also swim with the dolphins too.  After a talk, my wife said she would like to do it, so we agreed that she was definitely going to be the one to swim with the dolphins too.
Because of the high cost, I chose not to do the "swim with the dolphins" activity.  While I like dolphins too, but by not going I will shave an additional $150 off of the price for the experience.  Obviously, the decision was purely financial in nature, but I have to wonder, is this one of those missed opportunities in life that I will regret later because I'm being too frugal?
After a few weeks of thinking about it, I hate to say it but I'm sure that this is one of those experience that I will miss in life because I'm trying to save a buck.  I would now like to reconsider and update the experience so that I too could swim with the dolphins, but the event needs to be scheduled because they only have so many people swim with the dolphins per day.  So even though I changed my mind, I doubt that I will be able to upgrade my time there to include the "swimming with dolphins" element too (I still get to snorkel though).
I don't see us doing this again in the future, so I'm afraid that I just lost out on a wonderful experience for $150 extra…
What would have you have done?  I'm sure I'll still have a great time either way…  Later, after my vacation, I will have a follow up post on this experience from my wife and kid's perspective.
Bests,
MR